University of Washington Medical Center
Surgery Pavilion & Bone and Joint Center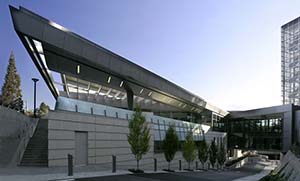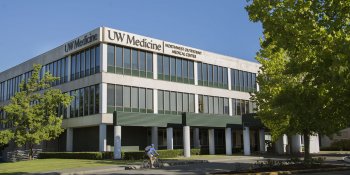 The University of Washington Orthopaedics and Sports Medicine Shoulder & Elbow Service operates on patients at the Surgery Pavilion at the main UWMC building. In addition, we run an ambulatory surgery center at the Northwest Outpatient Surgery Center.
The UWMC is a 396-bed general medical and surgical facility with 18,919 admissions in the most recent year reported. It performed 7,272 annual inpatient and 7,865 outpatient surgeries. Its emergency room had 25,602 visits.
Every effort has been has been made to create the ideal patient experience in the UW Medical Center Surgery Pavilion - from convenient parking to one-stop patient registration inside, Internet access in spacious, light-filled lobbies, and operating rooms and clinics featuring the most advanced technology available. "With the Surgery Pavilion, our goal was to establish a new standard for surgical care and training in the Northwest," said Dr. Mika Sinanan, UW Professor of Surgery. "In designing the building and its clinical operations, we have sought to foster operational efficiency and create an ideal environment for our patients, physicians, students and staff."
Dr. Frederick Matsen sees his patients at the Bone and Joint Center and operates at the Surgery Pavilion. Dr. Winston Warme operates on patients at both the Surgery Pavilion and the Northwest Outpatient Surgery Center.
The Shoulder and Elbow fellows see patients at the Bone and Joint Center. They operate with Dr. Matsen at the Surgery Pavilion and with Dr. Warme at both locations. Dr. Jason Hsu sees his patients at the Bone and Joint Center and operates at the Surgery Pavilion.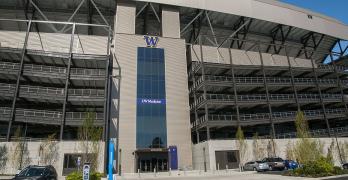 As team physicians for the UW Huskies, our expertise is in treating athletic injuries. We are committed to providing care to injuries sustained at all levels of physical activity…whether a weekend basketball-warrior, recreational skier, experienced mountaineer, or professional athlete. At our sports medicine center, we offer innovative, advanced and minimally-invasive treatment options to get active individuals "back in the game".
Our new sports medicine center opened in the renovated Husky Stadium in September 2013. Here , we provide evaluation, prevention and treatment of sports or exercise-related injuries, surgical and specialty care of the shoulder; elbow; hip; back; knee; ankle and foot; hands and wrist; and back-related problems, arthroscopic and minimally-invasive surgery, ultrasound diagnostics and platelet-rich-plasma (PRP) treatments, advanced exercise training programs; performance and sports health analytics; and physical therapy/rehabilitation for returning to activity, brace-fitting; custom orthotics; splinting; casting and bike-fitting; nutritional support; and sports psychology.
From our Shoulder and Elbow Service, you will find Dr. Albert Gee seeing patients in his outpatient clinics here.

UW Medical Center's Eastside Specialty Center provides residents of Bellevue and neighboring communities outpatient treatment, including minor procedures from some of the region's finest physicians. Patients can expect outstanding care, thorough diagnostic evaluation, and appointments with specialists in many practices.
The ESC provides:
Surgical and nonsurgical approaches to injuries and disorders affecting bones, joints and organs
On-site rehabilitation specialists and physical therapists help manage patients' recoveries
Quick-turnaround lab tests and onsite diagnostics for cardiology and vascular surgery
Most pre-operative tests and post-op care as a convenience for people who live and work on the Eastside, even though patients' surgical procedures take place at the UW Medical Center or at the Northwest Outpatient Surgery Center.
Dr. Winston Warme conducts an outpatient clinic here every Monday.
Dr. Jason Hsu sees patients at the Eastside Specialty Center on select Thursdays.