Frederick A. Matsen III, M.D.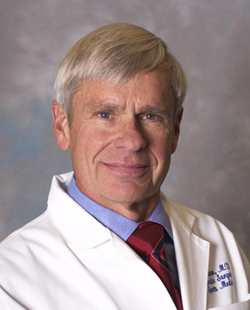 Medical School
M.D. Baylor University College of Medicine
Internship
Johns Hopkins Hospital, Baltimore, MD, 1968-1969
Residency
Orthopedic Surgery, University of Washington Medical Center, Seattle, WA, 1971-1974
Fellowship
Two fellowships in advanced shoulder reconstruction with Dr Charles S. Neer at the New York Orthopaedic Hospital, 1970s.
Board Certification
Board Certified
About
Follow my blog: http://shoulderarthritis.blogspot.com/
I am a tenured full professor in the Department of Orthopaedics and Sports Medicine and the holder of the Douglas T. Harryman II Endowed Chair in Shoulder and Elbow Research. I specialize in shoulder reconstructive surgery, including the ream and run procedure, total shoulder replacement, reverse total shoulder arthroplasty, total elbow replacement, and complex revision shoulder surgery.
Patient Care Philosophy
I am dedicated to providing patients with the best knowledge regarding their shoulder condition along with the most current evidence-based information regarding the options available for their care. My patients have full access to my personal email so that all questions can be answered expeditiously. My goal is a full patient-surgeon partnership.
Clinical Interests
Optimizing safety and effectiveness for patients needing shoulder reconstruction. I perform over 200 shoulder joint replacements per year for individuals with shoulder arthritis or complications of previous surgery.
Personal Interests
Family, hiking, backpacking, fly fishing, cycling, and health.
Make an Appointment
4245 Roosevelt Way NE
Second Floor
Seattle, WA 98105
Surgeries and Diagnosis
Common Surgeries:
Total shoulder joint replacement
Ream and run
Reverse total shoulder joint replacement
Revision shoulder surgery
Common problems treated include:
Shoulder arthritis
Failed shoulder surgery
Publications
Scientific Journal Publications:
Books:
The Shoulder (co-edited with Charles Rockwood)
The Shoulder Principles and Procedures (with Steve Lippitt)
Practical Evaluation and Management of the Shoulder
Research
I am actively involved in research into the factors that affect the outcome of shoulder reconstructive surgery. The goal is to aggressively seek to improve the excellence of the care we can offer patients needing surgical care for their shoulder problem.
I am also pioneering new approaches to reconstruction that allow individuals to return to high levels of activity. One particular example is the 'ream and run' procedure that avoids the potential limitations associated with a conventional total shoulder replacement.
Please see <http://www.orthop.washington.edu/reamandrun>.