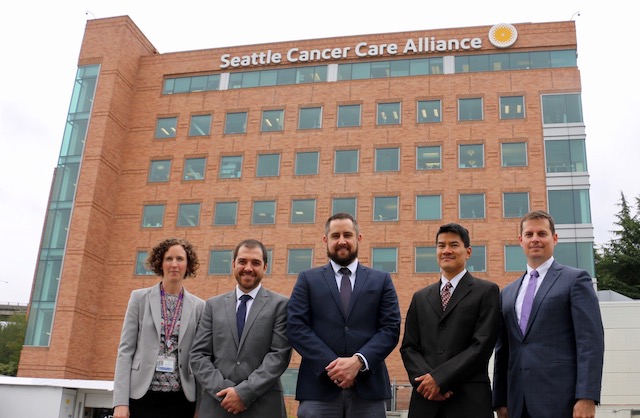 The Sarcoma Service, a specialty program of the Seattle Cancer Care Alliance (SCCA), provides comprehensive evaluation and management for patients with sarcomas (malignant tumors arising in connective tissue or bone) and benign soft tissue or bony tumors.
The Sarcoma Service is a collaboration between the Fred Hutchinson Cancer Research Center, UW Medicine, and Seattle Children's Hospital.
The Sarcoma Service provides diagnosis and treatment (medical and surgical) for bone and soft tissue tumors, limb reconstruction using special
prostheses and bone/tissue grafts, and coordination of medical and radiation treatment.
Housed in the Seattle Cancer Care Alliance, our multidisciplinary service is one of the few sarcoma clinics in the world where a patient can be evaluated by a surgeon, a medical oncologist, and a radiation therapist all in one visit.
Our team of specialty-trained orthopedic surgeons, oncologists (cancer specialists), physicians' assistants, and nurses have extensive experience and expertise. We provide a careful yet agressive approach to tumor diagnosis, imaging, and treatment in an environment where patient communication is key.

Making an appointment
You may make your own appointment at the Sarcoma Service or you may be referred by your physician.
To make an appointment, please call the Sarcoma Service's patient care coordinator at (206) 288-2167 between 8 a.m. and 5 p.m. Monday through Friday (except holidays).
To make your first visit as effective as possible, it is essential that you bring the following:
Previous X-rays, CT scans, MRI scans, bone scans
Copies of relevant portions of your medical record
Pathology slides and blocks
Facilities
The Sarcoma Service offers five clinics that provide information and care: