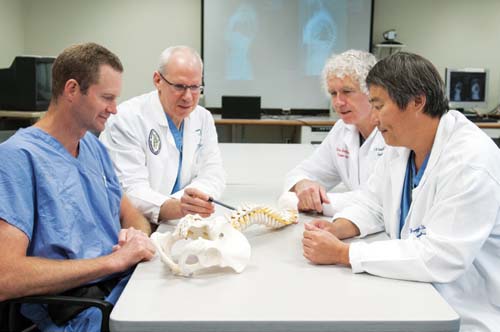 The UW Medicine Spine Center represents state-of-the-art clinical care, teaching and research, bringing together an array of board certified specialists to provide a cost effective, multidisciplinary approach to spine care.
Management options range from exercises to major surgery. We match each patient with the right providers and the right treatment plan. Our goal is not just relief of pain; it is maximum restoration of function. Using a multidisciplinary approach, the UW Medicine Spine Center offers patients and their referring physicians expertise in:
Interventional pain management
Musculoskeletal care
Physical and Rehabilitation Medicine
Radiology
Neurosurgery and Orthopedic spine surgery
A team of physicians work hand-in-hand to evaluate each patient and decide the best course of treatment. Patients will be assessed, triaged and treated by the most appropriate healthcare professionals. Treatments may include diagnostic and minimally invasive procedures, as well as the most technologically advanced surgical interventions. We provide personalized, expert care for patients with both simple and complex spine disorders and diseases.
Locations

The UW Medicine clinics that provide information and care for individuals with a wide range and back and neck problems:
Making an appointment

You may make your own appointment at the Spine Center or you may be referred by your physician. To make an appointment, please call: 206-520-5000 or Toll Free 877-520-5000.