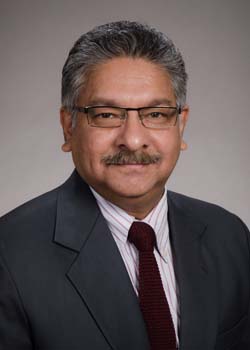 Russell Fernandes, PhD, will be inducted as an Orthopaedic Research Society Fellow at the ORS 2022 Annual Meeting in February.
Dr. Fernandes is a Research Associate Professor in our Collagen Biology and Genetics Disorder Lab whose research concentrates on how types II, IX and XI collagens are assembled into the cross-linked heterofibrils that are typical of cartilage. Turnover of these collagens during growth, development and in pathological conditions as in the skeletal chondrodysplasias and osteoarthritis are also of interest to Dr. Fernandes.
ORS Fellows represent longstanding members of the Orthopaedic Research Society who have demonstrated exemplary service and leadership, substantial achievement, expert knowledge, and significant contributions to the ORS, its governance, and the field of musculoskeletal research. Fellows are thought leaders and experts in their respective disciplines.
Congratulatioins to Russell Fernandes!
01/11/2022