Russell J. Fernandes, Ph.D.
About
Research Associate Professor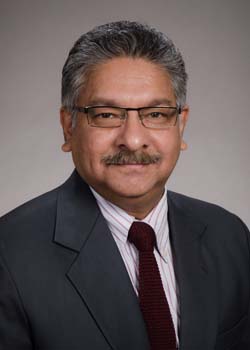 Collagen Biology and Genetic Disorders Lab
Specialty: Research
College: B.Sc. in Life Sciences and Biochemistry, University of Bombay, Bombay, INDIA, 1983
M.Sc. in Biochemistry, University of Bombay, Bombay, INDIA, 1986
Medical School Ph.D. in Biochemistry, Rush Medical College, Rush University, Chicago, 1993
Memberships:
Orthopedic Research Society
American Society of Matrix Biology, founding member
About Dr. Fernandes
My academic research focuses on collagen in normal and diseased cartilage.
Simply stated, my research concentrates on how types II, IX and XI collagens are assembled into the cross-linked heterofibrils that are typical of cartilage. Turnover of these collagens during growth, development and in pathological conditions as in the skeletal chondrodysplasias and osteoarthritis are also of interest to me.
My laboratory efforts aim to better understand collagen heterofibril formation and fibril growth in normal cartilage development. This may provide insight into fibrillogenesis in other pathologic conditions like osteoarthritis.
The knowledge gained from these studies will help understand why cartilage does not heal well and also help in the development of tissue-engineered cartilage of sufficient quality to be used in the treatment of focal cartilage defects and ultimately to resurface joints.