Clinical Assistant Professor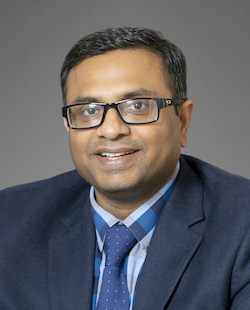 College
Gujarat University, Ahmedabad, Gujarat, India
Medical School
Gujarat University, Ahmedabad, Gujarat, India
Fellowship
Dept. of Orthopaedics and Sports Medicine, University of Washington, Harborview Medical Center, Seattle, WA
About
Dr. Patel is Acting Instrucor of the UW Orthopedics and Sports Medicine department. In addition to degenerative spine pathology, he is an expert in adult and pediatric spine deformity and minimal invasive spine surgery.
Dr. Patel earned his bachelor's degree from Gujarat University, India and his M.D. from the Gujarat University, India. Then he gained advance training in spine trauma, adult degenerative pathology and adult spine deformity at University of Washington. He had advance fellowship training for pediatric complex spinal deformity at Louisiana State University and University of Minnesota. He also received fellowship training for minimal invasive spine surgery at Twin Cities Spine Center in Minneapolis, Minnesota.
Patient Care Philosophy
At the University of Washington medical center, we bring together all aspects of spinal disease evaluation and treatment for the patient's benefit.
Our mission is to make university of Washington medical center national leader in spine surgery by providing patient center optimal care, best experience going through surgery, able to successfully take care of patients, publishing research in advance spine conditions and clinical practice.
Clinical Interests
Clinical research in adult spinal deformity, minimal invasive spine surgery.
Personal Interests
Cooking, Traveling, Reading
Make an Appointment
Research
Research in sacral trauma, adolescent idiopathic scoliosis, post-operative spinal wound infection and complication
Dr. Viral Patel provides some advice for aviding back pain when working from home.