Clinical Professor Emeritus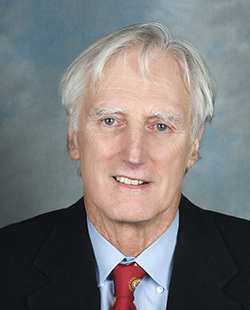 College
B.S.; Trinity College, Hartford, Connecticut, 1958-1963
Medical School
M.D.; Temple Medical School, Philadelphia, Pennsylvania, 1964-1968
Internship
General Surgery (2 years): Royal Victoria Hospital, (Montreal, Quebec, Canada)
Residency
Orthopedic Surgery: University of Washington, (Seattle, Washington)

Fellowship
Spine Fellowship: University of Hong Kong, (Hong Kong, China)
About
Dr. Wagner is a clinical professor in the Department of Orthopaedics and Sports Medicine, specializing in spine surgery. Dr. Wagner is also an Adjunct Professor in the Department of Neurological Surgery at the University of Washington School of Medicine in Seattle.
He earned a bachelor's degree from Trinity College in Connecticut and his medical degree from Temple Medical School in Philadelphia. After an internship in surgery in Montreal, he came to the UW for a residency in orthopaedic surgery. He also completed a spine fellowship at the University of Hong Kong. He has been a surgeon in the U.S. Navy and a private-practice physician before joining the UW faculty.
He is board-certified in orthopaedic surgery.
Patient Care Philosophy
The teaching and care of patients with spinal pathologies.
Spinal Surgery is a very definitive type of surgery with somewhat predictive complications of occurrences. We need to be responsible for teaching our patients what we know and what we don't know about their future before we do the index surgery.
Clinical Interests
Biological spine disk regeneration
Scoliosis
Spine trauma
Spine degeneration
Personal Interests
My wife and children, hiking and camping, bicycle riding.
Medical sabbaticals to many parts of the world.
Make an Appointment
4245 Roosevelt Way NE
Second Floor
Seattle, WA 98105
Surgeries and Diagnosis
Diagnosis
Pediatric and adult spinal deformity
Spinal fractures and tumors.
Publications
Howe CR, Agel J, Lee MJ, Bransford RJ, Wagner TA, Bellabarba C, Chapman JRThe Morbidity and Mortality of Fusions from the Thoracic Spine to the Pelvis in the Adult Population. Spine 2011 Jan;
Wagner TA, Kress CM, Beck I, Techapornroong M, Wittayapraparat P, Tansuphasawasdikul S, Jourdain G, Ngo-Giang-Huong N, Lallemant M, Frenkel LMDetection of HIV-1 drug resistance in women following administration of a single dose of nevirapine: comparison of plasma RNA to cellular DNA by consensus sequencing and by oligonucleotide ligation assay. Journal of clinical microbiology 2010 May; 48; 5; 1555-61
Lee LA, Newman NJ, Wagner TA, Dettori JR, Dettori NJ Postoperative ischemic optic neuropathy. Spine 2010 Apr; 35; 9 Suppl; S105-16
Wagner TA, Tobin NH, McKernan JL, Xu M, Melvin AJ, Mohan KM, Learn GH, Mullins JI, Frenkel LM Increased mutations in Env and Pol suggest greater HIV-1 replication in sputum-derived viruses compared with blood-derived viruses. AIDS (London, England) 2009 May; 23; 8; 923-8
Jense RJ, Howe CR, Bransford RJ, Wagner TA, Dunbar PJUniversity of Washington orthopedic resident experience and interest in developing an international humanitarian rotation. American journal of orthopedics (Belle Mead, N.J.) 2009 Jan; 38; 1; E18-20
Research
Research Interests
Tissue regeneration research related to spine injury or disease.
Design of spinal instrumentation.
Clinical outcomes for surgery for spinal deformity.
Directing research for spinal tissue regeneration, i.e., biological disk replacement.