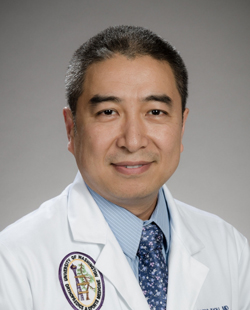 College
Bachelor of Medicine: Beijing Medical University, Beijing, China
Medical School
Residency/Research Training: Orthopaedic Surgery, Beijing Medical University Third Hospital, Beijing, China
Attending Physician - Spine Surgery: Dept. of Orthopaedic Surgery, Peking University Third Hospital, Beijing, China
Postdoctoral Fellow - Dept. Of Orthopaedic Surgery, Medical College of Georgia, Augusta, GA
Internship
Beijing Medical University Third Hospital, Beijing, China
Residency
Dept. of Orthopaedic Surgery, Georgia Regents University Augusta, Augusta, GA
Fellowship
Dept. of Orthopaedics and Sports Medicine, University of Washington, Harborview Medical Center, Seattle, WA
About
Dr. Haitao Zhou is a faculity member at Harborview Medical Center performing spinal surgery.
He earned his medical degree from Beijing Medical Univerisy did his residency at Medical College of Georgia and came to Harborview Medical Center for fellowship training in spinal surgery. He stayed on faculty after his fellowship year.
Patient Care Philosophy
I believe all patients should be treated by their doctors as if they were a family member. I believe that spending time communicating to patient can solve more issues than we thought.
Clinical Interests
Clinical research in surgical intervention for adult deformity.
Personal Interests
Hiking, cooking and photography.