Associate Professor

Director of Orthopaedic Trauma Research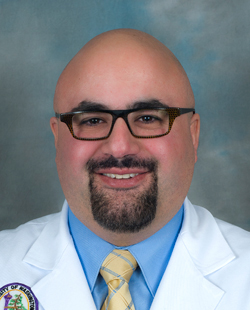 Medical School
Boston University School of Medicine
Internship
Univ. of Calif. San Francisco (Orth)
Residency
Univ. of Calif. San Francisco (Orth
Fellowship
Traumatology, Harborview Medical Center/University of Washington
About
Dr. Firoozabadi received his bachelor's degree in Molecular Cell Biology from University of California, Berkeley. He received his M.D. from Boston University School of Medicine and graduated Magna Cum Laude. He also obtained a Masters Degree in Medical Sciences at Boston University. He subsequently completed his orthopedic surgery residency at the University of California, San Francisco. Following his residency, he completed an Orthopaedic Trauma Fellowship at the University of Washington / Harborview Medical Center. Dr. Firoozabadi is devoted to teaching orthopaedic residents/fellows and improving the quality of patient care through research. His research interests focus on both the clinical and technical aspects of orthopaedic trauma surgery and the injured patient. Dr. Firoozabadi is an attending orthopaedic trauma surgeon at Harborview Medical Center and sees patients for trauma related injuries.
Personal Interests
In his free time Dr. Firoozabadi enjoys bicycling, gardening and going to the beach.
Make an Appointment
325 9th Avenue
1st Floor
Seattle, WA 98104
Publications
Outcomes After Severe Distal Tibia, Ankle, and/or Foot Trauma: Comparison of Limb Salvage Versus Transtibial Amputation (OUTLET).
Bosse MJ, Teague D, Reider L, Gary JL, Morshed S, Seymour RB, Toledano J, Cannada LK, Steverson B, Scharfstein DO, Luly J, MacKenzie EJ; METRC..
J Orthop Trauma. 2017 Apr;31 Suppl 1:S48-S55. doi: 10.1097/BOT.0000000000000799.
PMID: 28323802 
A Prospective Randomized Trial to Assess Oral Versus Intravenous Antibiotics for the Treatment of Postoperative Wound Infection After Extremity Fractures (POvIV Study).
Obremskey WT, Schmidt AH, O?Toole RV, DeSanto J, Morshed S, Tornetta P 3rd, Murray CK, Jones CB, Scharfstein DO, Taylor TJ, Carlini AR, Castillo RC; METRC.
J Orthop Trauma. 2017 Apr;31 Suppl 1:S32-S38. doi: 10.1097/BOT.0000000000000802.
Obtaining Correct Ankle Alignment Using Intraoperative External Fixation for Ankle Arthrodesis.
Firoozabadi R, Thuillier D, Benirschke S.
J Foot Ankle Surg. 2017 Mar - Apr;56(2):242-246. doi: 10.1053/j.jfas.2016.11.016.
Does Pelvic Embolization Increase Infection Rates in Patients Who Undergo Open Treatment of Acetabular Fractures
Firoozabadi R, Little M, Alton T, Scoloro J, Agel J, Kogut M.
J Orthop Trauma. 2017 Feb 15. doi: 10.1097/BOT.0000000000000771. [Epub ahead of print]
Management and radiographic outcomes of femoral head fractures.
Scolaro JA, Marecek G, Firoozabadi R, Krieg JC, Routt ML.
J Orthop Traumatol. 2017 Feb 10. doi: 10.1007/s10195-017-0445-z. [Epub ahead of print]
Heterotopic Ossification in Acetabular Fracture Surgery.
Firoozabadi R, Alton T, Sagi HC.
J Am Acad Orthop Surg. 2017 Feb;25(2):117-124. doi: 10.5435/JAAOS-D-15-00366.
Firoozabadi R, Cross W, Krieg J, Routt M, Acetabular Fractures in the Senior Population-Epidemiology, Mortality and Treatments, Archives of Bone & Joint Surgery, Dec 2016 
The AOSpine Sacral Fracture Classification, Global Spine Journal Apr 2016

 

The Development of a Universally Accepted Sacral Fracture Classification: A survey of AOspine and Aotrauma members.  Global Spine Journal Mar 2016
Should Displaced Sacral Fractures be Treated by an Orthopedic Traumatologist or a Spine Surgeon?
Lindtner RA, Bellabarba C, Firoozabadi R, Kurd MF, Shafi KA, Schroeder GD, Vaccaro AR.
Clin Spine Surg. 2016 Apr 29. [Epub ahead of print] No abstract available.
PMID: 27135619
Humeral shaft fractures: results of operative and non-operative treatment.
Westrick E, Hamilton B, Toogood P, Henley B, Firoozabadi R.
Int Orthop. 2016 May 6. [Epub ahead of print]
PMID: 27150488
Incarcerated Cortical Fragments in Intramedullary Nailing.
Eastman JG, Firoozabadi R, Cook LE, Barei DP.
Orthopedics. 2016 Apr 18:1-5. doi: 10.3928/01477447-20160414-04. [Epub ahead of print]
PMID: 27088352
Hyperextension Varus Bicondylar Tibial Plateau Fracture Pattern: Diagnosis and Treatment Strategies.
Firoozabadi R, Schneidkraut J, Beingessner D, Dunbar R, Barei D.
J Orthop Trauma. 2016 May;30(5):e152-7. doi: 10.1097/BOT.0000000000000510.
PMID: 27101165
Dynamizations and Exchanges: Success Rates and Indications.
Litrenta J, Tornetta P 3rd, Vallier H, Firoozabadi R, Leighton R, Egol K, Kruppa C, Jones CB, Collinge C, Bhandari M, Schemitsch E, Sanders D, Mullis B.
J Orthop Trauma. 2015 Dec;29(12):569-73. doi: 10.1097/BOT.0000000000000311.
PMID: 26595595
Neurologic Injury in Operatively Treated Acetabular Fractures.
Bogdan Y, Tornetta P 3rd, Jones C, Gilde AK, Schemitsch E, Vicente M, Horwitz D, Sanders D, Firoozabadi R, Leighton R, de Dios Robinson J, Marcantonio A, Hamilton B.
J Orthop Trauma. 2015 Oct;29(10):475-8. doi: 10.1097/BOT.0000000000000362.
PMID: 25967856
Special Technical Articles Prevention of Iliosacral Screw Intrusion Through the Lateral Iliac Cortex Firoozabadi, Reza MD, MA*; Oldenburg, Frederick P. MD†; Krieg, James C. MD‡; Routt, Milton L. "Chip MD§"
 Techniques in Orthopaedics: March 2015 - Volume 30 - Issue 1 - p 57–60 doi: 10.1097/BTO.0000000000000114
Kirschner wire bending.
Firoozabadi R, Kramer PA, Benirschke SK.
J Orthop Trauma. 2013 Nov;27(11):e260-3. doi: 10.1097/BOT.0b013e318290f818.
PMID: 23515120
Systematic Reviews and Meta-Analysis in Clinical Research, AAOS Basic Science Textbook, Firoozabadi R, Morshed S. Einhorn & Buckwalter, 2012.
Videos Featuring Dr. Firoozabadi
Presenting at the Orthopaedic Trauma Accociation - Posterior Wall Acetabular Fractures
Presenting at the Orthopaedics & Sports Medicine Grand Rounds- Feburary 4, 2015- Nutrition & Trauma
Presenting at the Orthopaedics & Sports Medicine Grnad Rounds - October 3, 2012- Pelvic Ring Injuries: Evaluation & Management