Associate Professor

Director of Orthopaedic Trauma Research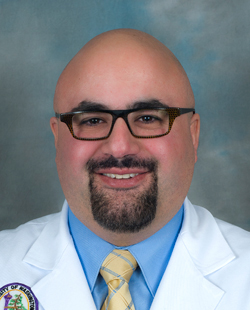 Medical School
Boston University School of Medicine
Internship
Univ. of Calif. San Francisco (Orth)
Residency
Univ. of Calif. San Francisco (Orth
Fellowship
Traumatology, Harborview Medical Center/University of Washington
About
Dr. Firoozabadi received his bachelor's degree in Molecular Cell Biology from University of California, Berkeley. He received his M.D. from Boston University School of Medicine and graduated Magna Cum Laude. He also obtained a Masters Degree in Medical Sciences at Boston University. He subsequently completed his orthopedic surgery residency at the University of California, San Francisco. Following his residency, he completed an Orthopaedic Trauma Fellowship at the University of Washington / Harborview Medical Center. Dr. Firoozabadi is devoted to teaching orthopaedic residents/fellows and improving the quality of patient care through research. His research interests focus on both the clinical and technical aspects of orthopaedic trauma surgery and the injured patient. Dr. Firoozabadi is an attending orthopaedic trauma surgeon at Harborview Medical Center and sees patients for trauma related injuries.
News
Personal Interests
In his free time Dr. Firoozabadi enjoys bicycling, gardening and going to the beach.
Make an Appointment
325 9th Avenue
1st Floor
Seattle, WA 98104
Publications
1.

Interprosthetic Fractures of the Femur

NM Romeo et al. Orthopedics 41 (1), e1-e7. PMID 28776632. - Review

As the rate of hip and knee arthroplasty procedures increases, so will the rate of interprosthetic fractures. Several factors, including bone quality, bone quantity, and …

2.

Surgical Management of Atypical Femur Fractures Associated With Bisphosphonate Therapy

M Githens et al. J Am Acad Orthop Surg 26 (24), 864-871. PMID 30256339. - Review

Atypical femur fractures associated with long-term bisphosphonate use can be challenging injuries to manage. Not only do they have a prolonged healing time and increased …

3.

Management and Radiographic Outcomes of Femoral Head Fractures

JA Scolaro et al. J Orthop Traumatol 18 (3), 235-241. PMID 28188487.

Fractures of the femoral head are rare. An anterior approach can be used for fragment excision or fixation using mini-fragment screws. Pipkin III fractures represent cata …

4.

Transtibial Amputation Outcomes Study (TAOS): Comparing Transtibial Amputation With and Without a Tibiofibular Synostosis (Ertl) Procedure

MJ Bosse et al. J Orthop Trauma 31 Suppl 1, S63-S69. PMID 28323804. - Randomized Controlled Trial

The optimal technique for a transtibial amputation in a young, active, and healthy patient is controversial. Proponents of the Ertl procedure (in which the cut ends of th …

5.

Determining Stability in Posterior Wall Acetabular Fractures

R Firoozabadi et al. J Orthop Trauma 29 (10), 465-9. PMID 25938598.

Determination of hip stability can be challenging in patients with posterior wall acetabular fractures. Our data suggest that the location of the exit point of the fractu …

6.

Classifications in Brief: The Pipkin Classification of Femoral Head Fractures

NM Romeo et al. Clin Orthop Relat Res 476 (5), 1114-1119. PMID 29470231. - Review

7.

Sacral Fractures and Associated Injuries

R Rodrigues-Pinto et al. Global Spine J 7 (7), 609-616. PMID 28989838. - Review

Sacral fractures are complex in nature and often associated with other often-missed injuries. This review summarizes the most relevant associated injuries in sacral fract …

8.

Heterotopic Ossification in Acetabular Fracture Surgery

R Firoozabadi et al. J Am Acad Orthop Surg 25 (2), 117-124. PMID 28098705. - Review

Heterotopic ossification (HO) is a common complication of the surgical treatment of acetabular fractures. HO is the formation of trabecular bone in soft tissues where bon …

9.

Humeral Shaft Fractures: Results of Operative and Non-Operative Treatment

E Westrick et al. Int Orthop 41 (2), 385-395. PMID 27150488.

Conservative treatment of humeral shaft fractures has a higher rate of nonunion, while operative treatment is associated with a low incidence of iatrogenic nerve palsy bu …

10.

Risk Factors for Conversion to Total Hip Arthroplasty After Acetabular Fractures Involving the Posterior Wall

R Firoozabadi et al. J Orthop Trauma 32 (12), 607-611. PMID 30277977.

Acetabular fractures with posterior wall involvement are associated with a significantly higher rate of conversion to THA if reduction is not near-anatomic. A combination …

11.

Assessment of Severe Extremity Wound Bioburden at the Time of Definitive Wound Closure or Coverage: Correlation With Subsequent Postclosure Deep Wound Infection (Bioburden Study)

MJ Bosse et al. J Orthop Trauma 31 Suppl 1, S3-S9. PMID 28323795.

Infection remains the most common and significant complication after high-energy fractures. The Bioburden Study is a multicenter, prospective, observational cohort study …

12.

Technique for Placement of Peri-Implant Antibiotics Using Antibiotic Putty

R Firoozabadi et al. J Orthop Trauma 31 (12), e442-e445. PMID 28827508.

Surgical site infections lead to increased morbidity and health care costs. The use of local antibiotics in the form of powder applied to the surgical wound has significa …

13.

Risk Stratification for Erectile Dysfunction After Pelvic Fracture Urethral Injuries

PH Chung et al. Urology 115, 174-178. PMID 29432870.

ED was more severe following PFUI than pelvic fracture alone. We suspect that urethral injury is not the direct cause of ED, but rather a surrogate for extensive pelvic i …

14.

Complications Associated With Pelvic External Fixation

C McDonald et al. Orthopedics 40 (6), e959-e963. PMID 28934542.

An external fixator is an essential tool for treating unstable pelvic ring injuries but its use carries risks, including pin-site infections and injury to the lateral fem …

15.

Treatment of Pediatric and Adolescent Pelvic Ring Injuries With Percutaneous Screw Placement

JA Scolaro et al. J Pediatr Orthop 38 (3), 133-137. PMID 27261962.

The majority of pediatric pelvic ring injuries can be treated without surgery. In the setting of instability, percutaneous pelvic screw fixation can be performed safely. …

16.

Significance of Lateral Process Fractures Associated With Talar Neck and Body Fractures

NM Romeo et al. J Orthop Trauma 32 (12), 601-606. PMID 30277976.

Comminution of the inferior articular surface of the talus elevates the risk of subtalar arthritis in patients with both talar neck and body fractures. Fracture of the LP …

17.

Outcomes After Severe Distal Tibia, Ankle, and/or Foot Trauma: Comparison of Limb Salvage Versus Transtibial Amputation (OUTLET)

MJ Bosse et al. J Orthop Trauma 31 Suppl 1, S48-S55. PMID 28323802.

Severe foot and ankle injuries are complex and challenging to treat, often requiring multiple operations to salvage the limb contributing to a prolonged healing period. T …

18.

Current Management of Talar Fractures

MP Sullivan et al. Instr Course Lect 66, 39-49. PMID 28594487.

Talar fractures are some of the most challenging injuries that orthopaedic traumatologists manage. The current knowledge of functional alterations with regard to malreduc …

19.

The 2016 American Orthopaedic Association-Japanese Orthopaedic Association Traveling Fellowship

S Nandi et al. J Bone Joint Surg Am 99 (11), e57. PMID 28590387.

The American Orthopaedic Association-Japanese Orthopaedic Association (AOA-JOA) Traveling Fellowship, which began in 1992 as a collaborative effort between the 2 orthopae …

20.

Identification of Exercise-Induced Ischemia Using QRS Slopes

R Firoozabadi et al. J Electrocardiol 49 (1), 55-9. PMID 26607407.

In this work we studied a computer-aided approach using QRS slopes as unconventional ECG features to identify the exercise-induced ischemia during exercise stress testing …

21.

Should Displaced Sacral Fractures Be Treated by an Orthopedic Traumatologist or a Spine Surgeon?

RA Lindtner et al. Clin Spine Surg 29 (5), 173-6. PMID 27135619.

22.

Efficient Noise-Tolerant Estimation of Heart Rate Variability Using Single-Channel Photoplethysmography

R Firoozabadi et al. J Electrocardiol 50 (6), 841-846. PMID 28918214.

Our performance testing shows that the pulse rate variability (PRV) parameters are comparable to the HRV parameters from simultaneous ECG recordings.

23.

Novel Strategies for the Diagnosis of Posttraumatic Infections in Orthopaedic Trauma Patients

R Firoozabadi et al. J Am Acad Orthop Surg 23 (7), 443-51. PMID 26040954.- Review

Orthopaedic infections that occur after trauma are common. Clinical examination, laboratory markers, imaging modalities, and culture and molecular technologies are used t …

24.

Immediate Weight-Bearing After Ankle Fracture Fixation

R Firoozabadi et al. Adv Orthop 2015, 491976. PMID 25785201.

We believe that a certain subset of surgical ankle fracture patients can be made weight-bearing as tolerated immediately following surgery. Immediate weight-bearing as to …

25.

A Prospective Randomized Trial to Assess Oral Versus Intravenous Antibiotics for the Treatment of Postoperative Wound Infection After Extremity Fractures (POvIV Study)

WT Obremskey et al. J Orthop Trauma 31 Suppl 1, S32-S38. PMID 28323799. - Randomized Controlled Trial

Patients surgically treated for infection after extremity fractures are typically discharged with a 6- to 12-week antibiotic regimen. Intravenous (IV) antibiotics are ass …

26.

Acetabular Fractures in the Senior Population- Epidemiology, Mortality and Treatments

R Firoozabadi et al. Arch Bone Jt Surg 5 (2), 96-102. PMID 28497099.

Geriatric patients with acetabular fractures are uncommon accounting for only 14% of all acetabular fractures. Patients who undergo surgery show lower mortality rates. AB …

27.

Does Provisional Plating of Closed Tibia Fractures Have Higher Complication Rates?

JM Haller et al. J Orthop Trauma 31 (10), 554-558. PMID 28471916.

PP can be used for complex, closed tibia fractures without an increased risk of infection, nonunion, and malunion compared with standard closed reduction techniques.

28.

Incarcerated Cortical Fragments in Intramedullary Nailing

JG Eastman et al. Orthopedics 39 (3), e582-6. PMID 27088352. - Case Reports

In fractures with varying degrees of comminution, it is possible for cortical bone fragments to become entrapped within the intramedullary canal. There have been prior ca …

29.

Anatomic Knowledge and Perceptions of the Adequacy of Anatomic Education Among Applicants to Orthopaedic Residency

P Toogood et al. J Am Acad Orthop Surg Glob Res Rev 1 (2), e016. PMID 30211350.

Current students applying into orthopaedic residency do not appear to be adequately prepared with the prerequisite anatomic knowledge. These deficits must be explicitly a …

30.

Treatment Discrepancy for Pelvic Fracture Patients With Urethral Injuries: A Survey of Orthopaedic and Urologic Surgeons

NV Johnsen et al. J Orthop Trauma 33 (8), e280-e284. PMID 30939506.

There is discordance between urologists and orthopaedists as to the optimal management of PFUI patients, with significant disagreement regarding the infectious risks of S …

31.

Obtaining Correct Ankle Alignment Using Intraoperative External Fixation for Ankle Arthrodesis

R Firoozabadi et al. J Foot Ankle Surg 56 (2), 242-246. PMID 28231959.

Ankle arthrodesis remains an important treatment option for patients with ankle arthritis. Many methods have been described; however, no consensus has been reached regard …

32.

Neurologic Injury in Operatively Treated Acetabular Fractures

Y Bogdan et al. J Orthop Trauma 29 (10), 475-8. PMID 25967856.

Peripheral neurologic injury in operatively treated acetabular fractures occurs most commonly in the sciatic nerve distribution, with L5 root level deficits having only a …

33.

Intraoperative Distal Femoral Fine Wire Traction to Facilitate Intramedullary Nailing of the Femur

M Githens et al. Orthopedics 39 (2), e380-5. PMID 26881460.

Many techniques have been employed to facilitate intramedullary nailing of femur fractures. Maintaining limb length during the operation can be difficult. The authors des …

34.

Does Pelvic Embolization Increase Infection Rates in Patients Who Undergo Open Treatment of Acetabular Fractures?

R Firoozabadi et al. J Orthop Trauma 31 (4), 185-188. PMID 28207477.

Despite previous reports of high infection rates after pelvic embolization, the deep infection rate was only 4% after embolization in our cohort. This suggests that conce …

35.

Intelligent Use of Advanced Capabilities of Diagnostic ECG Algorithms in a Monitoring Environment

R Firoozabadi et al. J Electrocardiol 50 (5), 615-619. PMID 28476433.

A large number of ST-elevation notifications are generated by cardiac monitoring systems, but only a fraction of them is related to the critical condition known as ST-seg …

36.

Dynamizations and Exchanges: Success Rates and Indications

J Litrenta et al. J Orthop Trauma 29 (12), 569-73. PMID 26595595.

Previous literature has few reports of the success rates of secondary interventions for tibial nonunions. The indications for dynamization and exchange were similar. Comm …

37.

Development of Three Methods for Extracting Respiration From the Surface ECG: A Review

E Helfenbein et al. J Electrocardiol 47 (6), 819-25. PMID 25194875. - Review

Over the last five years, we have performed six studies using the above methods: 1) In 1907 sleep lab patients with >1.5M 30-second epochs, EDR achieved an apnea detec …

38.

Cell Saver Use in Acetabular Surgery: Does Approach Matter?

R Firoozabadi et al. J Orthop Trauma 29 (8), 349-53. PMID 25635358.

CS is not indicated for routine use when performing ORIF of the acetabulum. Use of the CS may be warranted with anterior approaches if large amounts of blood loss are ant …

39.

Plantar Medial Avulsion Fragment Associated With Tongue-Type Calcaneus Fractures

MR Adams et al. Foot Ankle Int 40 (6), 634-640. PMID 30841752.

Plantar medial avulsion fractures occurred in 38.4% of the calcaneal fractures reviewed with a significantly greater proportion occurring in TT (73.6%) as opposed to JD ( …

40.

The Development of a Universally Accepted Sacral Fracture Classification: A Survey of AOSpine and AOTrauma Members

GD Schroeder et al. Global Spine J 6 (7), 686-694. PMID 27781189.

Study Design Survey study. Objective To determine the global perspective on controversial aspects of sacral fracture classifications. Methods While d …

41.

Hyperextension Varus Bicondylar Tibial Plateau Fracture Pattern: Diagnosis and Treatment Strategies

R Firoozabadi et al. J Orthop Trauma 30 (5), e152-7. PMID 27101165.

The HEVBTP pattern is a unique fracture. The surgeon must recognize the possible associated injuries that accompany this injury. We suggest fixation strategies that addre …

42.

Does Concurrent Tibial Intramedullary Nailing and Fibular Fixation Increase Rates of Tibial Nonunion? A Matched Cohort Study

M Githens et al. J Orthop Trauma 31 (6), 316-320. PMID 28538453.

Fibular fixation did not impact rates of tibial nonunion. The rate of tibial nonunion in both cohorts is comparable with published rates of tibial nonunion after IM naili …

43.

A Randomized Controlled Trial Comparing rhBMP-2/Absorbable Collagen Sponge Versus Autograft for the Treatment of Tibia Fractures With Critical Size Defects

Major Extremity Trauma Research Consortium (METRC). J Orthop Trauma 33 (8), 384-391. PMID 31022069.

These data do not provide sufficient evidence to conclude that ICBG and rhBMP-2 are equivalent regarding radiographic union.

44.

CORR Insights®: Does Screw Location Affect the Risk of Subtrochanteric Femur Fracture After Femoral Neck Fixation? A Biomechanical Study

R Firoozabadi. Clin Orthop Relat Res. PMID 31663884.

45.

Radial Neck Dilatory Remodeling After Radial Head Arthroplasty With an Uncemented, Press Fit, Fully Chemically Etched Stem Design

MP Sullivan et al. J Orthop Trauma 31 (9), 497-502. PMID 28471917.

Our study demonstrates significant radiographic differences between 2 frequently used RHA implants. Radial neck dilatory remodeling is a common, rapidly progressive, and …

46.

Entrapped Posteromedial Structures in Pilon Fractures

JG Eastman et al. J Orthop Trauma 28 (9), 528-33. PMID 24343256.

In addition to the osseous injuries, CT imaging can demonstrate the posteromedial soft tissue structures. In our series, the tibialis posterior tendon was commonly incarc …

47.

Single Provider Reduction and Splinting of Displaced Ankle Fractures: A Modification of Quigley's Classic Technique

TB Alton et al. J Orthop Trauma 29 (4), e166-71. PMID 25072290.

Ankle fractures are commonly treated by orthopaedic surgeons and often require manipulative reduction. This can be painful for the patient and frequently uses 2 or more p …

48.

Henry Versus Thompson Approach for Fixation of Proximal Third Radial Shaft Fractures: A Multicenter Study

J Dashe et al. J Orthop Trauma. PMID 31809416.

There was no statistical difference in complication rates between volar and dorsal approaches. Specifically, fixation to the level of the tuberosity is safely accomplishe …

49.

Mapping of the Stable Articular Surface and Available Bone Corridors for Cup Fixation in Geriatric Acetabular Fractures

M T Marmor et al. J Am Acad Orthop Surg. PMID 31567899.

The findings of this study may aid in the development and evaluation of fixation strategies for acetabular cups allowing geriatric acetabular fracture patients earlier we …

50.

Inguinal Abnormalities in Male Patients With Acetabular Fractures Treated Using an Ilioinguinal Exposure

R Firoozabadi et al. Arch Bone Jt Surg 3 (4), 274-9. PMID 26550593.

Clinical Study- 5.7% (5/87) of patients had spermatic cord lesion and/or inguinal hernia requiring general surgical intervention. Preoperative pelvic CT scan review ident …

51.

Analyzing Cardiac Rhythm in the Presence of Chest Compression Artifact for Automated Shock Advisory

S Babaeizadeh et al. J Electrocardiol 47 (6), 798-803. PMID 25172189.

Defibrillation is often required to terminate a ventricular fibrillation or fast ventricular tachycardia rhythm and resume a perfusing rhythm in sudden cardiac arrest pat …

52.

Use of the Initial Trauma CT Scan to Aid in Diagnosis of Open Pelvic Fractures

JA Scolaro et al. Injury 46 (10), 1999-2002. PMID 26199029.

Open pelvic disruptions represent high-energy injuries. The prompt identification and management of these injuries decreases their associated morbidity and mortality. Com …

53.

Risk of Spermatic Cord Injury During Anterior Pelvic Ring and Acetabular Surgery: An Anatomical Study

R Firoozabadi et al. Arch Bone Jt Surg 3 (4), 269-73. PMID 26550592.

The average distance between the midline and spermatic cords was 34.2 mm. The average distance between the spermatic cord and implant was 18.2 mm. Eleven of the thirty-si …

54.

Acute Exertional Compartment Syndrome of Bilateral Upper Extremities After a Push-up Contest

CJ Schiffman et al. J Am Acad Orthop Surg Glob Res Rev 3 (7), e017. PMID 31579880. - Case Reports

Acute exertional compartment syndrome (AECS) involving the upper extremity is a rare form of compartment syndrome that occurs after physical activity. Despite its infrequ …

55.

Risk Factors for the Development of Heterotopic Ossification After Acetabular Fracture Fixation

R Firoozabadi et al. Clin Orthop Relat Res 472 (11), 3383-8. PMID 24906813.

Patients with prolonged mechanical ventilation might benefit from HO prophylaxis given the increased risk of developing severe HO in this patient population. However, fut …

56.

Building a Clinical Research Network in Trauma Orthopaedics: The Major Extremity Trauma Research Consortium (METRC)

Major Extremity Trauma Research Consortium (METRC). J Orthop Trauma 30 (7), 353-61. PMID 27333458.

Success of METRC to date confirms the potential for civilian and military trauma centers to collaborate on critical research issues and leverage the strength that comes f …

57.

Kirschner Wire Bending

R Firoozabadi et al. J Orthop Trauma 27 (11), e260-3. PMID 23515120.

Although Kirschner wires are useful implants in many situations, migration of the wire and irritation of the surrounding soft tissues are common complications. Seven step …

58.

Plantar Medial Wounds Associated With Calcaneal Fractures

R Firoozabadi et al. Foot Ankle Int 34 (7), 941-8. PMID 23478886.

Patients with this type of injury-even those with Gustilo Type I open fractures-need to be apprised that their injury is associated with long-term sequelae, including com …

59.

Predicting Defibrillation Success in Sudden Cardiac Arrest Patients

R Firoozabadi et al. J Electrocardiol 46 (6), 473-9. PMID 23871657.

Although the importance of quality cardiopulmonary resuscitation (CPR) and its link to survival is still emphasized, there has been recent debate about the balance betwee …

60.

Technique for Open Reduction and Internal Fixation of Lateral Process Talus Fractures

NM Romeo et al. J Orthop Trauma 34 Suppl 1, S9-S13. PMID 31939774.

Lateral process fractures of the talus may occur either in isolation or in combination with a talar neck or body fracture. Screw fixation has been well described as a mea …

61.

Does Plugging Unused Combination Screw Holes Improve the Fatigue Life of Fixation With Locking Plates in Comminuted Supracondylar Fractures of the Femur?

R Firoozabadi et al. J Bone Joint Surg Br 94 (2), 241-8. PMID 22323694.

Filling the empty holes in peri-articular locking plates may improve the fatigue strength of the fixation. The purpose of this in vitro study was to investigate the effec …

62.

Qualitative and Quantitative Assessment of Bone Fragility and Fracture Healing Using Conventional Radiography and Advanced Imaging Technologies--Focus on Wrist Fracture

R Firoozabadi et al. J Orthop Trauma 22 (8 Suppl), S83-90. PMID 18753895. - Review

Fractures of the distal radius are one of the most common injuries presented to orthopaedic surgeons. A variety of treatment options are available for the vast array of f …

63.

Cytochemical Evaluation of Sperm Chromatin and DNA Integrity in Couples With Unexplained Recurrent Spontaneous Abortions

AR Talebi et al. Andrologia 44 Suppl 1, 462-70. PMID 21806662.

The aim of this study was to examine the possible relationship between sperm DNA integrity and chromatin packaging evaluated by cytochemical assays, traditional sperm par …

64.

Diastolic Blood Pressure in Patients With Tibia Fractures Under Anaesthesia: Implications for the Diagnosis of Compartment Syndrome

S Kakar et al. J Orthop Trauma 21 (2), 99-103. PMID 17304064.

There is a predictable response of DBP in patients with tibia fractures treated with intramedullary (IM) nailing under general anesthesia. The preoperative DBP is a good …

65.

Evaluation of Diagnostic Value of CT Scan, Physical Examination and Ultrasound Based on Pathological Findings in Patients With Pelvic Masses

RD Firoozabadi et al. Asian Pac J Cancer Prev 12 (7), 1745-7. PMID 22126557.

The sensitivity of CT scan is far higher than that of sonography-physical examination in the diagnosis of pelvic mass malignancy.

66.

Posterior Glenohumeral Joint Dislocation: A Rare Complication of Central Venous Cannulation in a Patient Undergoing Coronary Artery Surgery

WG Wood et al. J Cardiothorac Vasc Anesth 27 (1), 101-2. PMID 21862347.- Case Reports

67.

Induction of a p95/Nbs1-mediated S Phase Checkpoint by Telomere 3' Overhang Specific DNA

MS Eller et al. FASEB J 17 (2), 152-62. PMID 12554694.

Telomere shortening induces a nonproliferative senescent phenotype, believed to reduce cancer risk, and telomeres are involved in a poorly understood manner in responses …

68.

Sonographic Fetal Weight Estimation Using Femoral Length: Honarvar Equation

RD Firoozabadi et al. Ann Saudi Med 27 (3), 179-82. PMID 17568170.

Ethnicity potentially plays an important role in the fetal weight estimation. The Honarvar formula produced the best estimate of the actual birthweight for Iranian fetuse …

69.

Evidence That Exposure of the Telomere 3' Overhang Sequence Induces Senescence

GZ Li et al. Proc Natl Acad Sci U S A 100 (2), 527-31. PMID 12515865.

Normal human cells cease proliferation after a finite number of population doublings, a phenomenon termed replicative senescence. This process, first convincingly describ …
Videos Featuring Dr. Firoozabadi
Presenting at the Orthopaedic Trauma Accociation - Posterior Wall Acetabular Fractures
Presenting at the Orthopaedics & Sports Medicine Grand Rounds- Feburary 4, 2015- Nutrition & Trauma
Presenting at the Orthopaedics & Sports Medicine Grnad Rounds - October 3, 2012- Pelvic Ring Injuries: Evaluation & Management
Research
Dr. Firoozabadi's research is focused on the care of orthopaedic trauma patients with musculoskeletal injuries. His research expertise is expansive ranging from biomechanical studies and basic science benchwork to randomized prospective multicentered clinical trials. Currently his research activities are focused on the following areas:
PREVENT CLOT Study
Blood clots can form after traumatic orthopaedic injuries and these clots can result in life threatening pulmonary emboli. The purpose of this study is to investigate the effectiveness of Low Molecular Weight Herapin compared to Aspirin in preventing death and clinically important pulmonary blood clots in patients who sustain orthopaedic trauma injuries. Patient satisfaction and out of pocket costs are also being compared. This study includes 18 trauma hospitals in the United States and Canada. Dr. Firoozabadi serves as Co-investigator in this multi-centered study.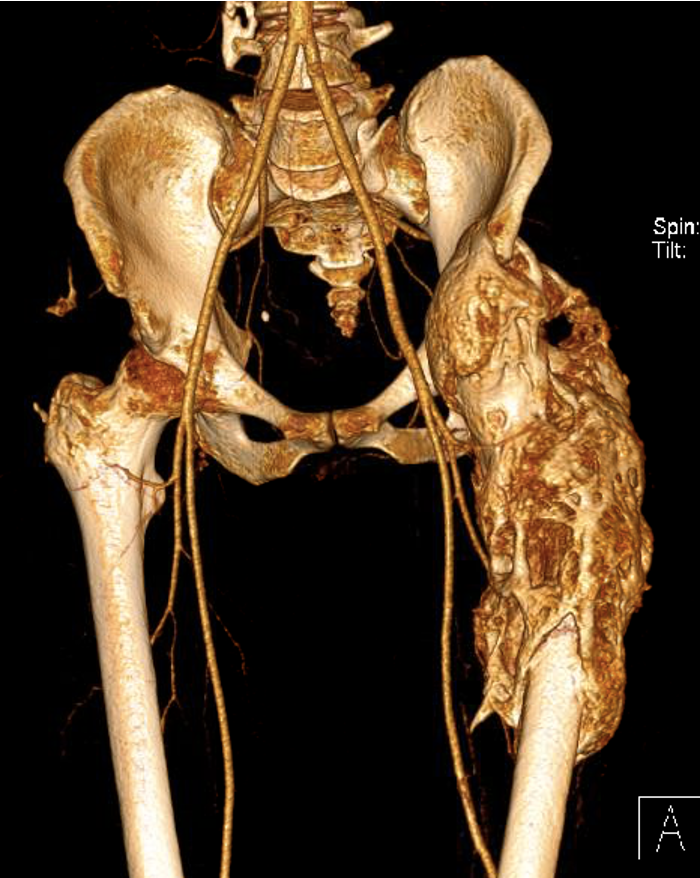 Heterotopic Ossification Prevention
Heterotopic ossification is the pathologic process by which pathologic extra-skeletal bone forms in muscle and soft tissue. This pathologic bone can result in significant pain and immobility of joints. Our study team is exploring novel methods to decrease the rate of heterotopic ossification after orthopaedic trauma injury and surgery. Dr. Firoozabadi is working closely with our Basic Science team of Dr. Steve Bain, Dr. Brandon Ausk, and Dr. Ted Gross to study the efficacy and delivery of Botox to decrease the rate of heterotopic ossification.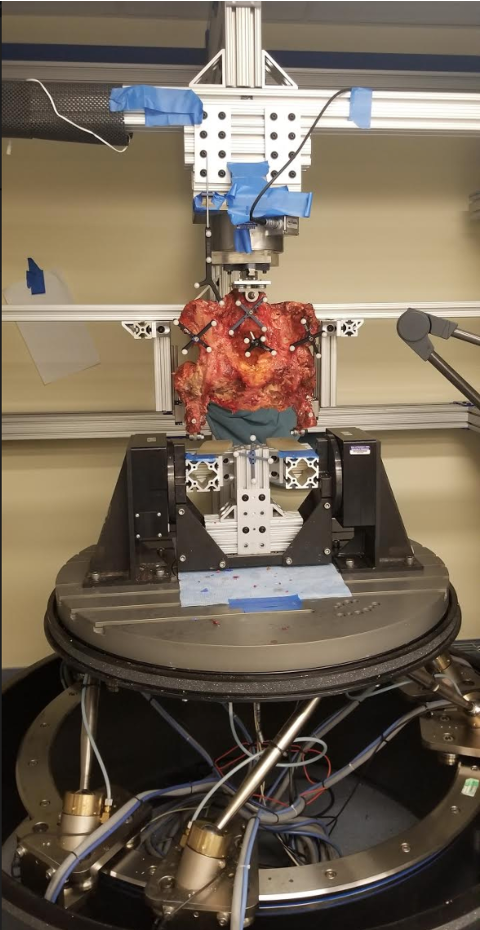 Pelvic and Acetabular Research
A number of studies are being performed under the topic of pelvis and acetabular surgery. Currently Dr. Firoozabadi is working with Scot Telfer, EngD in our UW Orthopaedics Computational, Robotics, and Experimental Biomechanics Lab to study the effect of placing implants in the pelvis in regards to adjacent joint motion and stress. This data will help guide surgeons and patients to have a better understanding of how placing hardware in different locations in the pelvis could potentially alter biomechanics of adjacent joints and the lumbar spine.
Virtual Reality Augmentation to Improve Patient Experience & Pain During Orthopaedic Procedures
Many procedures in orthopaedic surgery require a visit to the operating room due to the anticipated pain and anxiety that may result during the procedure. Virtual Reality could potentially help decrease the patients pain and distract the patient to a point that certain procedures can be done without the inherent risk of anesthesia and the costs associated with a visit to the operating room. Hunter Hoffman, PhD and team from UW Human Interface Technology Laboratory is collaborating with our group. This study was recently showcased by National Geographics.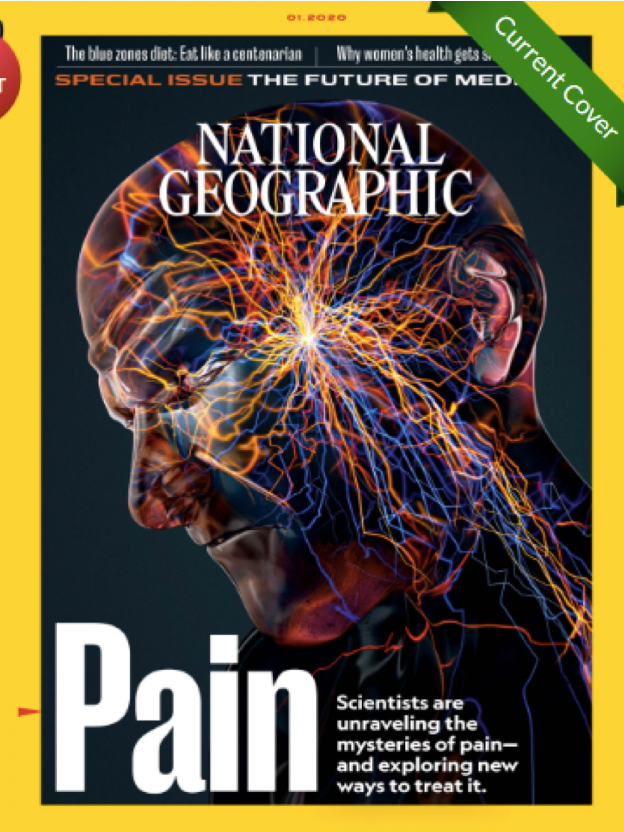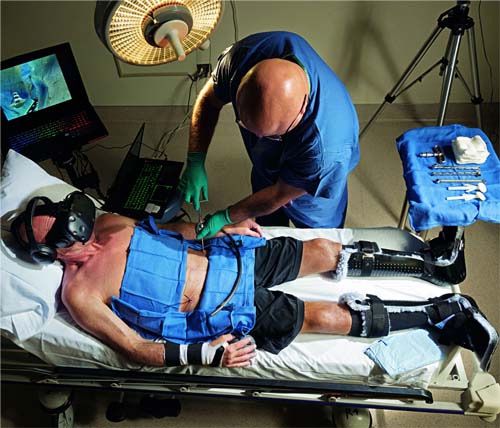 &nbsp
&nbsp
&nbsp