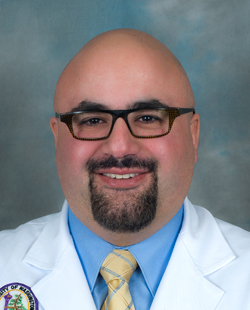 Our own Dr. Reza Firoozabadi is included in National Geographic's January issue which is dedicated to the science of pain. The online version is out today.
The article, "Scientists are Unraveling the Mysteries of Pain," looks at the biology of pain and doctor's attempts to explore new ways to treat it. It talks about how pain can be generated in the absence of a triggering injury and that pain transmission can be hypersensitive in the wake of an injury. Also, pain signals can be influenced by a person's emotional state. It looks at the new targets for pain relief focusing on certain genes.
A series of images in the article features orthopaedic trauma surgeon Reza Firoozabadi, MD, treating a patient with several broken bones including a pelvis fracture. Dr. Firoozabadi has the patient watch a virtual reality game while removing stabilizing pins to test virtual reality's effectiveness at easing pain. The patient is watching a virtual reality game SnowWorld developed at UW by Hunter Hoffman. The patient reported that the game was a pleasant distraction and reduced his discomfort. This was part of a study to help determine if virtual reality can decrease the need for general anesthesia, reducing risk and cost.
Read the full article here: https://www.nationalgeographic.com/magazine/2020/01/scientists-are-unraveling-the-mysteries-of-pain-feature