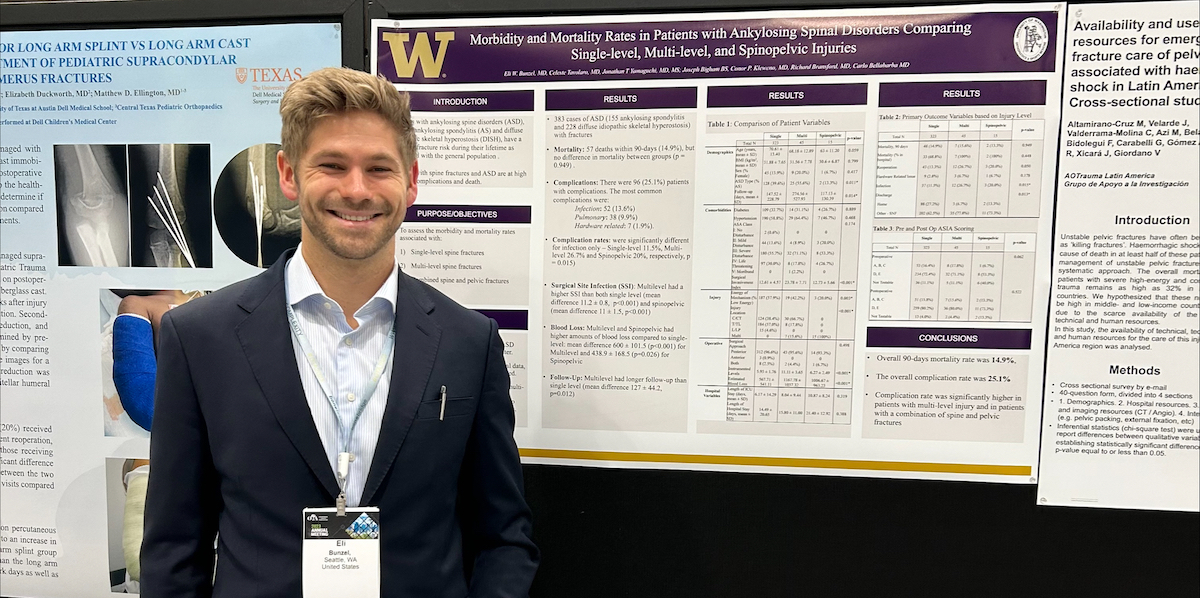 The 2023 Annual Meeting of the Orthopaedic Trauma Association is happening in Seattle this weekend, Oct. 18 - 21.
Several of our faculty and residents are in attendance to present papers and posters and join more than 400 of their peers to share their expertise, experience and perspectives.
Dr. Lisa Taitsman served as local host and kicked off the Annual Meeting yesterday with a welcome message for attendees.
Faculty and Resident Presenters
Poster
Co-Author
Presenting Author/Corresponding Author
(119) Morbidity and Mortality Rates in Patients with Ankylosing Spinal Disorders Comparing Single-level, Multi-level and Spinopelvic Injuries
Session: AM ITCF Poster
Co-Author:
Pediatric Floating Elbows: What is All the Guss About? A Multicenter Perspective
Saturday, October 21, 2023
9:45 AM – 9:51 AM PST
Location: 4B
Co-Author:
Tranexamic Acid Administered at Time of Hospital Admission Does Not Decrease Transfusion Rates or Blood Loss for Extracapsular Hip Fractures: A Double-Blinded Randomized Clinical Trial
Thursday, October 19, 2023
8:37 AM – 8:43 AM PST
Location: 4B
Poster
Co-Author
Presenting Author/Corresponding Author
(119) Morbidity and Mortality Rates in Patients with Ankylosing Spinal Disorders Comparing Single-level, Multi-level and Spinopelvic Injuries
Session: AM ITCF Poster
Moderator:
Annual Meeting Podium Session I: Hip Fractures and Infection I
Thursday, October 19, 2023
8:25 - 9:26 AM PST
Location:4B

Moderator:
Poster Tours
Friday, October 20, 2023
12:50 PM – 1:30 PM PST
Location:Exhibit Hall 4EF

Co-Author:
Deep Surgical Site Infection After Fracture Has a Profound Effect on Functional Outcome
Thursday, October 19, 2023
10:24 AM – 10:30 AM PST
Location: 4B

Co-Author:
Does the OTA Open Fracture Classification (OTA-OFC) Predict Flap-Related Complications in Severe Open Tibial Fractures
Friday, October 20, 2023
10:46 AM – 10:52 AM PST
Location:4B

Co-Author:
Patient Satisfaction and Out-of-Pocket Costs Associated With Aspirin and Low-Molecular-Weight Heparin: A Secondary Analysis of the PREVENT CLOT study
Friday, October 20, 2023
2:31 PM – 2:37 PM PST
Location: 4B

Co-Author:
Risk-Stratified Thromboprophylaxis Effects of Aspirin Versus Low-Molecular-Weight Heparin in Orthopaedic Trauma Patients
Saturday, October 21, 2023
10:55 AM – 11:01 AM PST
Location: 4B

Moderator:
What Went Wrong in Pelvic Fracture Management and How Can I Fix it?
Friday, October 20, 2023
4:30 PM – 5:30 PM PST
Location:4B

Moderator:
Annual Meeting Symposium III: DVT Prophylaxis, So Much New Data, What Am I Supposed To Do?
Friday, October 20, 2023
8:00 AM – 9:00 AM PST
Location:4B

Poster
Co-Author
(167) The VANCO Trial Findings Are Generalizable to a North American Trauma Registry
Session: AM Poster
Chair:
OTA Member Fireside (For OTA Members)
Wednesday, October 18, 2023
5:00 PM – 8:00 PM PST
Location: 2AB

Faculty:
Demystifying Periarticular Fracture-dislocations of the Elbow
Saturday, October 21, 2023
9:45 AM – 10:45 AM PST
Location: 606-607

Faculty:
Management of Complex Geriatric Proximal Humerus Fractures: From Sling to Salvage
Friday, October 20, 2023
4:30 PM – 5:30 PM PST
Location: 608-609

Moderator, Faculty
When All Hope is Lost, How to Salvage the Unsalvageable, Part II
Thursday, October 19, 2023
9:35 AM – 10:35 AM PST
Location: 611-612
Co-Author:
Increased Operative Time Does Not Increase Deep Infection Rates in Closed Bicondylar Tibial Plateaus Treated With Dual Plating
Saturday, October 21, 2023
11:49 AM – 11:55 AM PST
Location: 4B

Faculty:
Combined Pelvic Ring and Acetabulum Fractures: What I've Learned and What I Wish I Would Have Known Back Then
Thursday, October 19, 2023
2:00 PM – 3:00 PM PST
Location: 4B

Faculty:
What Went Wrong in Pelvic Fracture Management and How Can I Fix it?
Friday, October 20, 2023
4:30 PM – 5:30 PM PST
Location:4B

Faculty:
When All Hope is Lost, How to Salvage the Unsalvageable, Part II
Thursday, October 19, 2023
9:35 AM – 10:35 AM PST
Location: 611-612

Poster
Co-Author
Presenting Author/Corresponding Author
(119) Morbidity and Mortality Rates in Patients with Ankylosing Spinal Disorders Comparing Single-level, Multi-level and Spinopelvic Injuries
Session: AM ITCF Poster
Faculty:
When All Hope is Lost, How to Salvage the Unsalvageable, Part II
Thursday, October 19, 2023
9:35 AM – 10:35 AM PST
Location: 611-612
Presenter
Welcome - Local Host
Thursday, October 19, 2023
8:05 AM – 8:10 AM PST
Location:4B
Celeste Tavolaro, MD
Poster
Co-Author
(119) Morbidity and Mortality Rates in Patients with Ankylosing Spinal Disorders Comparing Single-level, Multi-level and Spinopelvic Injuries
Session: AM ITCF Poste
Poster
Presenting Author/Corresponding Author
(119) Morbidity and Mortality Rates in Patients with Ankylosing Spinal Disorders Comparing Single-level, Multi-level and Spinopelvic Injuries
Session: AM ITCF Poster
Poster
Co-Author
Presenting Author/Corresponding Author
(119) Morbidity and Mortality Rates in Patients with Ankylosing Spinal Disorders Comparing Single-level, Multi-level and Spinopelvic Injuries
Session: AM ITCF Poster
10/19/2023