Frederick A. Matsen III, M.D.
Professor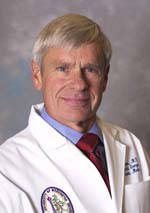 Dr. Matsen, ranked as a "Top Doctor" in the category of "Orthopaedics" according to Seattle Magazine, has dedicated his entire professional life to developing excellence in Orthopaedics and Sports Medicine at the University of Washington. Starting with his residency here in 1971 he developed an interest in shoulder and elbow reconstruction. A fellowship with the father of modern shoulder surgery, Dr. Charles S. Neer II, confirmed his lifetime commitment to improving the art of care of patients with simple and complex problems involving the shoulder and elbow. He has partnered with Charles Rockwood, a fellow Texan, in editing the definitive text in shoulder surgery The Shoulder, soon to be in its fifth edition from Saunders. He has also written Practical Evaluation and Management of the Shoulder and most recently, along with a former shoulder fellow Steve Lippitt, has published Shoulder Surgery, Principles and Procedures, also published by Saunders. Matsen and his partner Winston Warme are the primary faculty for a fellowship in shoulder and elbow surgery.
He is the former chair of the Department of Orthopaedics and Sports Medicine, a position he held from 1986 to 2009, making him amongst the longest tenured chairs among clinical departments at the University of Washington. During his tenure the Department has risen to being one of the top Departments according to rankings by U.S. News and World Report and by the National Institutes of Health. These dramatic accomplishments are a direct result of the wonderful faculty, staff, residents, fellows, postdoctoral students, graduate students, alumni and benefactors that have together made the Department what it is today.
Currently, his research includes work on Propionibacterium acnes, the relatively slow-growing bacterium. Collaborating with Drs. Pottinger, Butler-Wu, and Bumgarner, Dr. Matsen has published original research on these bacterial cultures found in revision shoulder arthroplasties. In addition, he continues his work on conflict of interest questions, chondrolysis and pain pumps, impingement syndrome, and glenohumeral arthritis. He is currently committed to providing quality free information to the world on the shoulder arthritis and rotator cuff tears via the Shoulder Blog (www.shoulderarthritis.blogspot.com) which recently passed 300,000 page views from over 100 countries.
Winston J. Warme, M.D.
Professor
Chief, Shoulder and Elbow Service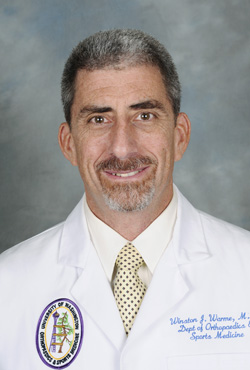 Prior to joining the University of Washington, Dr. Warme worked as an academic orthopaedic surgeon in the US Army. His time in the military began as an enlisted Special Forces Medic. Subsequently he attended college at the University of Colorado, and medical school at the Uniformed Services University of the Health Sciences. His time working with elite troops and athletes fostered an interest in sports medicine, with special focus on shoulder and elbow problems. Dr. Warme completed a fully accredited fellowship with Dr. Robert A. Arciero, at West Point, NY in 1998. During COL Warme's tenure he was a program director for a residency program and a chair of orthopaedic surgery at an Army Medical Center. He served in Operation Iraqi Freedom and received many awards and decorations during his 24 year career.
In 2007, Dr. Warme joined the University of Washington Department of Orthopaedics and Sports Medicine. The following year he took on the responsiblities of running the Shoulder and Elbow Service as Chief as well as the Program Director position in charge of the Shoulder and Elbow Fellowship Program. Since then, he has brought in over $130,000 grant funds for the fellowship program.
Most recently, he was awarded the UW Medicine Cares Award. The award was established in 2013 to formally recognize and celebrate the accomplishments and excellences of those in the UW Medicine community who consistently exemplify the Patients Are First Service Culture Guidelines – professional standards that ensure that anyone who encounters UW Medicine receives the same great care and service throughout the system.
Joining the Shoulder and Elbow Service in the Department of Orthopaedics and Sports Medicine at the University of Washington has allowed Dr. Warme to continue to provide optimal care to patients while continuing to teach orthopaedic surgeons-in-training, and to forward his research efforts.
Albert O. Gee, M.D.
Associate Professor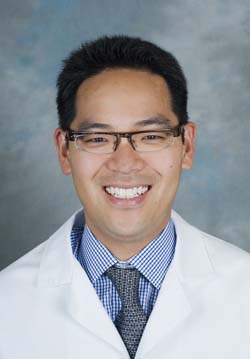 Albert Gee is a sports medicine and shoulder surgeon with specialty training in the care of the injured athlete. He attended medical school at Washington University in St. Louis and completed his training in orthopaedic surgery at the University of Pennsylvania - the oldest training program in the United States. Dr. Gee completed a fellowship in sports and shoulder surgery at the prestigious Hospital for Special Surgery in New York City where he served as assistant team physician for the NBA's New Jersey Nets. He served as a member of the medical staff of the U.S. Open Tennis Tournament and served as an assistant team physician for the Iona College Gaels.
His clinical interests include treating shoulder injuries, knee ligament injuries (ACL, PCL, MCL, LCL) and athletic ankle problems. His research interests include ligament and tendon biomechanics and mechanobiology, meniscus and cartilage tissue engineering, and shoulder instability and reconstruction.
Dr. Gee is a member of the American Academy of Orthopaedic Surgeons, American Orthopaedic Society for Sports Medicine, and the Arthroscopy Association of North America.
He has been published in multiple peer reviewed periodicals including the Journal of Hand Surgery, American Journal of Orthopaedics, Biomaterials, Journal of Orthopaedic Trauma, Techniques in Knee Surgery, and The American Journal of Sports Medicine among others.
Jason E. Hsu, M.D.
Associate Professor
Rick and Anne Matsen Honorary Professorship for Shoulder Research
Dr. Jason Hsu is the newest member of our shoulder and elbow team. He joined our department in September 2014. Jason attended medical school at Northwestern University and then completed his residency at the University of Pennsylvania. During his residency, he spent one year in the McKay Orthopaedic Research Laboratory focusing on research involving tendon and ligament injury, repair, and healing. He was also the recipient of the DeForest Willard Award for Outstanding Chief Resident, the Joseph P. Iannotti Award for Excellence in Shoulder Surgery, and the Stanley Chung Award for Excellence in Research. He also participated in the AAOS/OREF/ORS Clinician Scholar Development Program in preparation for an academic career. Prior to joining the University of Washington, he completed a one-year fellowship in shoulder and elbow surgery at Washington University in Saint Louis.
His clinical interests include arthroscopic rotator cuff repair and instability surgery as well as complex primary and revision shoulder arthroplasty. His research interests include work on the basic science of tendon and ligament healing. He also collaborates with Dr. Matsen and members of the infectious disease and microbiology in better understanding the diagnosis and management of Propionibacterium in shoulder arthroplasty. He also is involved in shoulder arthroplasty outcomes research.
He has been published in multiple peer reviewed periodicals including the Journal of Shoulder and Elbow Surgery, the Journal of Bone and Joint Surgery, Clinical Orthopaedics and Related Research, Arthroscopy, Journal of Orthopaedic Research, and Journal of Biomechanics.