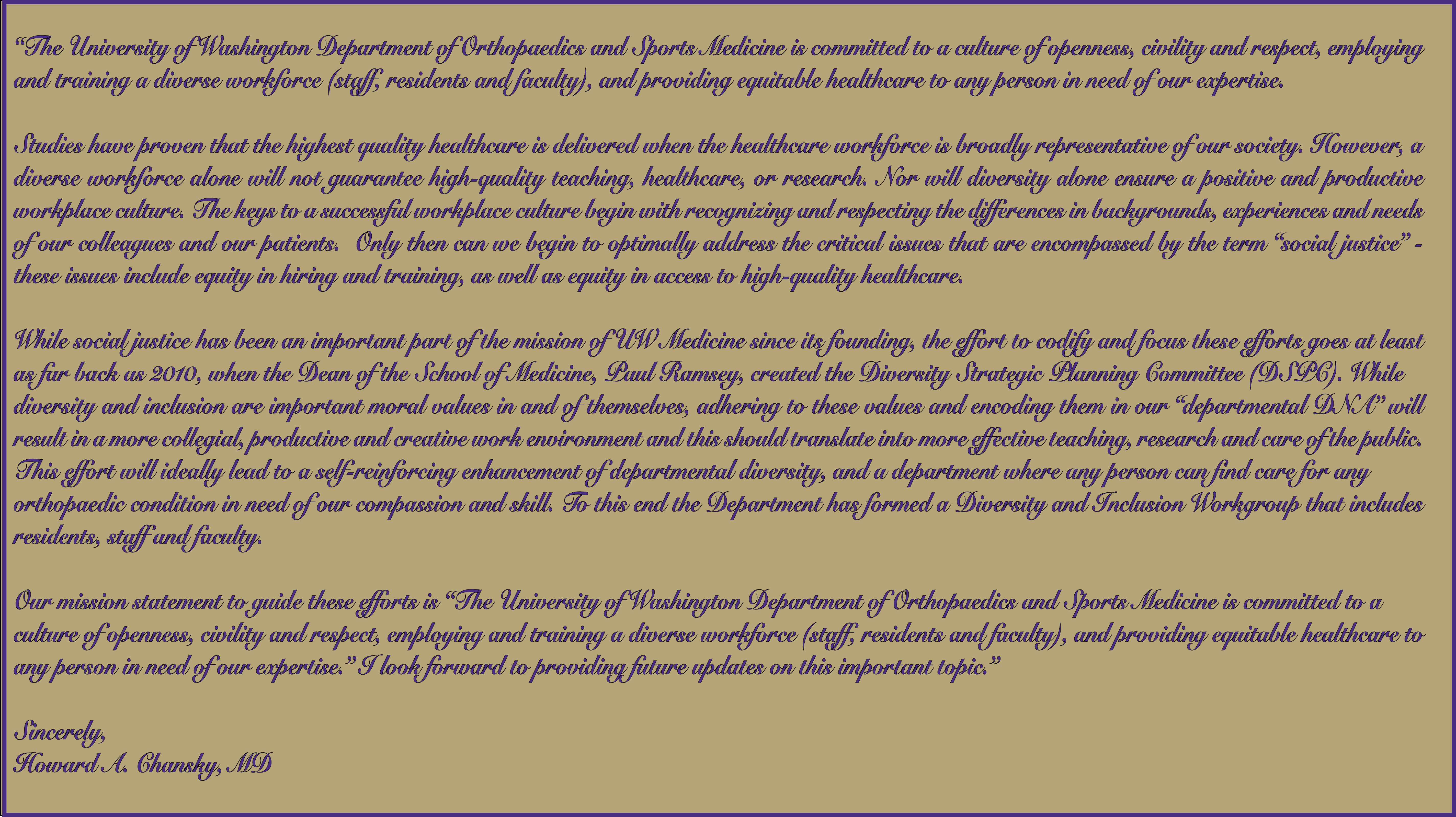 The University of Washington, Department of Orthopaedics and Sports Medicine is committed to improving diversity not only in our department but in our orthopedics community as a whole. To this end, our department formed a committee, which meets regularly to discuss how to improve diversity and Inclusivity in Orthopaedics & Sports Medicine. This committee is made up of passionate residents, faculty and staff. Through this committee we have be come leaders at UW Medicine and in the orthopaedics community to better reach under represented students. Our committee crafted the above statement to best encapsulate how our department's commitment to diversity and inclusivity. You can also view that statement here.
Our department partnered with Nth Dimensions to hold a bio skills lab, where faculty, residents and staff were present to help answer questions from students and to teach some of the skills that orthopaedic surgeons use in the OR. Our faculty also work with Doctor for a Day, where we work to inspire students of color to consider healthcare careers.
We send faculty and residents to the Annual Medical Education Conference Hosted by the Student National Medical Association. At this conference which celebrates diversity in medicine, we spoke with medical students who were interested in Orthopedic Surgery. We informed them about why we feel the University of Washington is one of the best Orthopedic Surgery programs in the country. We encouraged students to visit for sub internships and provided information regarding our available scholarships. We also have the opportunity to do some teaching at "Orthopods and Sawbones Workshop".
Our faculty is investing in aspiring orthopaedic & sports medicine surgeons. We are pleased to announce our Diversity Visiting Student Scholarship Program! The Visiting Student Sub-Internship Program is a funded program designed to give students from a diverse background a chance to experience the exceptional training that the Department of Orthopaedics and Sports Medicine at the University of Washington has to offer. To learn more about this fantastic opportunity please go here.
Click here to read our departments response to recent events in our community.
The Women Who Discovered RNA Splicing, Most scientists who played key roles in this Nobel Prize–winning breakthrough disappeared from public memory. Why does this injustice persist 40 years later? A great article from American Scientist: Most scientists who played key roles in this Nobel Prize–winning breakthrough disappeared from public memory. Why does this injustice persist 40 years later? (you will need to sign in with an @uw.edu address to view the article) or subscribe with American Scientist here