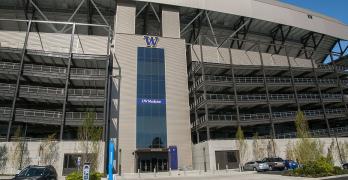 The University of Washington Department of Orthopaedics and Sports Medicine has started an ACGME accredited sports medicine fellowship.
Our new Sports Medicine fellowship aims to develop and train outstanding clinicians and surgeons in the field of orthopaedic sports medicine who will be expert team physicians and future leaders in the field of orthopaedic sports medicine.
Goals of our new Sports Medicine Fellowship program are:
Fellows will develop the knowledge and technical skills to evaluate and treat patients with athletic injuries of the shoulder, knee, elbow, hip and foot/ankle using both surgical and non-surgical means.
Fellows will gain experience and proficiency in sideline and team-physician coverage duties.
Fellow will develop skills to critically examine and evaluate current orthopaedic and sports medicine literature and gain experience in performing and publishing research.
Incoming fellows will benefit from the mentorship of our outstanding faculty and the depth of surgical, clinical and research opportunities available within our Sports Medicine service.
Interested candidates should apply to the Fellowship through SF Match. From those applying we invite the most competitive candidates for interviews conducted between January 2, 2022 and April 1, 2022.
For more information about our new Sports Medicine fellowship including program description, fellow surgical experience, and research opportunities, please see our Sports Medicine Fellowship page.