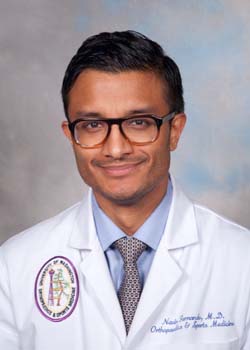 Dr. Navin Fernando joined the UW Orthopedic Department in early 2014. Dr. Fernando completed his fellowship in Adult Joint Reconstruction at the prestigious Rothman Institute at Thomas Jefferson University in Philadelphia, and completed his orthopedic residency training at McMaster University in Ontario, Canada, the birthplace of evidence-based medicine. Dr. Fernando is board certified in orthopedic surgery by the Royal College of Physicians and Surgeons of Canada. He is a member of the American Association of Orthopedic Surgeons as well as the Canadian Orthopedic Association.
Dr. Fernando's surgical philosophy is based on patient-centered care. The decision to have an operation is never an easy one, and every patient's circumstances are unique. Every operation involves a partnership of trust between the patient and doctor. He feels his duty as a surgeon is to discuss all available treatment options (both surgical and non- surgical), to give honest advice based on the best current evidence, and deliver expertise care using the best techniques available to ensure an excellent outcome.
Some of his clinical interests include; Direct Anterior Total Hip Replacement, Minimally invasive Total Knee Replacement, Partial knee replacement, avascular necrosis of the hip and complex total joint revision.
Not only is Dr. Fernando an internationally recognized surgeon, but he is also an outstanding educator. Through surgical skills labs (as demonstrated below), lectures, and by surgical observation, Dr. Fernando takes the time to thoroughly train our Orthopaedics Residents to become expertly trained physicians.
Below you will see a brief example of the surgical technique Dr. Fernando uses in Direct Anterior Total Hip Replacement. For a detailed article on Direct Anterior Total Hip Replacement click here!