Surgeon Spotlight: Dr. Adam Sassoon - UW/Northwest Hospital - Joint Preservation, Joint Replacement and Orthopedic Trauma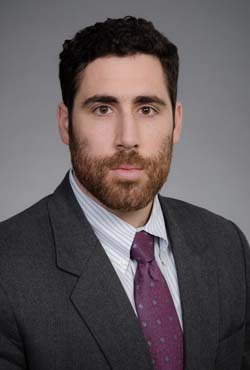 Dr. Adam Sassoon is a dual fellowship trained surgeon who joined the UW Department of Orthopaedics and Sports Medicine in September 2014. In addition to his extensive clinical training, he arrived with an established reputation in publishing and research. He has devoted himself to advancing the field of orthopaedic surgery and has contributed more than 25 original, peer-reviewed, scientific articles to the medical literature; and authored multiple book chapters in orthopaedic surgical texts. His research has also been showcased in regional and national orthopaedic scientific meetings on more than forty occasions.
Dr. Sassoon's dual-fellowship training in hip and knee replacement and orthopaedic trauma provides him with a unique perspective in orthopaedics and a large skill set to draw from when tackling difficult clinical problems commonly referred to his practice, including periprosthetic fractures, infected total joints, revision arthroplasty, and post-traumatic arthritis. Dealing with these complex clinical scenarios also affords Dr. Sassoon with valuable knowledge in avoiding complications in his own primary joint replacement patients; thereby offering them improved outcomes and a fast track to recovery.
Dr Sassoon's clinical interests in arthroplasty are geared toward improvements in bearing couples for total knee replacement, accelerometry-guided knee replacement, patient expectations following total joint replacement, mini-posterior approach to the hip, infection prevention following total joint replacement, and the use of arthroplasty for traumatic indications.
Dr. Sassoon's background in pelvic and acetabular trauma has provided him with valuable insight and comfort in performing open hip preservation procedures to treat impingement and dysplasia deformities. His joint preservation fellowship at Washington University in St. Louis solidified his interest in performing open surgical dislocations and periacetabular osteotomies to treat these conditions. The goals of these surgeries are to preserve and improve one's own anatomy, and avoid the need for early joint replacement.
Dr. Sassoon's philosophy in treating patients is "the best interest of the patient is the only interest to be considered." Dr. Sassoon treats each patient with respect to their individual needs and goals in an attempt to maximize their outcomes from a biological, psychological, and social standpoint. Dr. Sassoon takes great pride in directing the efforts of a multidisciplinary team in the restoration of patient comfort, mobility, and independence. His ultimate goal: to return all of his patients to the things they enjoy in their lives as quickly as possible.
Places where you can schedule appointment with Dr. Sassoon:
Web Articles and video Authored by Dr. Sassoon
http://www.orthop.washington.edu/?q=patient-care/articles/knee/computer-assisted-accelerometer-guided-total-knee-arthroplasty/total-knee