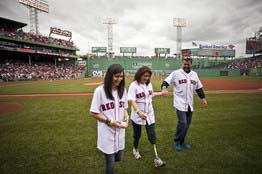 Dr. Smith discusses preceptions and the recovery experiences of amputees in this Wall Street Journal article from Sept. 20 entitled:
"Struggles of Boston Amputees Mount; As Limelight Fades, Some Victims Feel Pressure to Be Resilient for Boston".
A decade ago, the popular perception of amputation was unnecessarily dark, said Douglas G. Smith, a professor of orthopedic surgery at the University of Washington and a former medical director of the Amputee Coalition, a national nonprofit organization. Today, after young and strong veterans have returned from war with prostheses, he said the view of amputation may be too rosy.
Dr. Smith estimates it takes 12 to 18 months before a traumatic amputee is fully recovered and an unpredictable time to adjust to artificial limbs. "The range of outcomes is bigger than people want to imagine," he said.