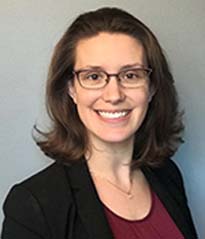 Kacy Peek, M.D. (PGY-4) has been selected as one of two American Academy of Orthopaedic Surgeons (AAOS) 2020 Resident Advocacy Fellows.
Launched in 2018, this one-year fellowship is an opportunity for orthopaedic residents to participate in the national health policy arena. Resident Advocacy Fellows work with AAOS staff and get valuable exposure to the legislative and regulatory processes, policy and program development, and advocacy. The fellowship helps develop a foundation of healthcare leadership.
Congratulations, Dr. Peek!
Learn more about the the AAOS Resident Advocacy Fellowship, including a nice profile of Dr. Peek at https://aaos.org/aaosnow/2020/feb/advocacy/advocacy01/.