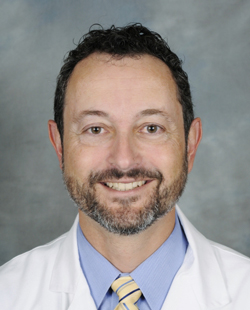 Medical School
M.D. McGill University Faculty of Medicine
Internship
St. Luke's/Roosevelt Hospital Center, New York, NY, 1991-1993
Residency
McGill University, Montreal, QC, 1993-1996
Fellowship
Shriners Fellow, Orthopedic Research, Joint Diseases Laboratory, Shriners Hospital for Children, Montreal Unit 1996-1997
Fellowship - Adult Reconstruction and Joint Replacement, University of Pittsburgh Medical Center, Pittsburgh, PA 1997-1998
Board Certification
Board Certified
About
Many patients express interest in minimally invasive approaches to hip and knee surgery. I believe that this type of surgery, though technically challenging, offers many benefits to the patient, including less tissue injury, less post-operative pain, faster rehabilitation, and a shorter hospital stay.
My major interests relate to the care and treatment of osteoarthritis. My aim is to conduct clinical research that has a significant impact on the field while raising the clinical standards for optimal patient care. I want to reduce morbidity and improve outcomes in these patients not only through research but also by establishing a model of care that can be universally applied, easily adapted to both academic and community groups and led by outstanding trainees who can influence care throughout the world.
Clinical Interests
Dr. Manner's major clinical interest is care and treatment of osteoarthritis. His other clinical interests include hip fractures, minimally-invasive surgery for knee and hip replacement, hemi-resurfacing arthroplasty of the hip, knee arthroscopy and treatment for degenerative conditions in hip and knee.
Personal Interests
Dr. Manner enjoys rowing, skiing and travelling with family in his spare time.
Make an Appointment
11011 Meridian Avenue N.
Suite 201
Seattle, WA 98133
Surgeries and Diagnosis
Surgeries:
Total hip replacement
Hip preservation
Total knee replacement
Knee arthroscopy
Complex total hip and knee revision
Primary/Revision hip and knee artrhoplasty
Minimally invasive total hip replacement (Direct Anterior Total Hip Replacement)
Minimally-invasive partial knee replacement (unicompartmental)
Knee osteotomy
Hemiarthroplasty for hip fracture
Open reduction internal fixation (repair) of hip fractures
Femoroacetabular osteoplasty
Minimally invasive (quadriceps-sparing) total knee replacement
Post-Traumatic Reconstruction of the Hip and Knee
Hemiresurfacing arthroplasty of the hip (partial hip replacement)
Periacetabular osteotomy
Femoral osteotomy
Diagnosis:
Osteoarthritis (hip/knee)
Rheumatoid Arthritis (hip/knee)
Avascular necrosis (osteonecrosis of the femoral head)
Developmental dysplasia of the hip
Metastatic disease of the hip/pelvis/knee
Hip fracture
Meniscus tears in the knee
Hip impingement (femoroacetabular osteoplasty)
Painful total hip or total knee
Periprosthetic infections
Joint infections
Surgical Hip dislocation
Dislocated Hip/knee
Post traumatic arthritis
Geriatric Fracture
Publications
Williams SL, Bachison C, Michelson JD, Manner PA Component position in 2-incision minimally invasive total hip arthroplasty compared to standard total hip arthroplasty. The Journal of arthroplasty 2008 Feb; 23; 2; 197-202
Birmingham P, Helm JM, Manner PA, Tuan RS Simulated joint infection assessment by rapid detection of live bacteria with real-time reverse transcription polymerase chain reaction. The Journal of bone and joint surgery. American volume 2008 Mar; 90; 3; 602-8
Manner PA Universal health care and the single-payer system. Orthopedics 2007 Aug; 30; 8; 601, 604
Okafor CC, Haleem-Smith H, Laqueriere P, Manner PA, Tuan RS Particulate endocytosis mediates biological responses of human mesenchymal stem cells to titanium wear debris. Journal of orthopaedic research : official publication of the Orthopaedic Research Society 2006 Mar; 24; 3; 461-73
Wang X, Manner PA, Horner A, Shum L, Tuan RS, Nuckolls GH Regulation of MMP-13 expression by RUNX2 and FGF2 in osteoarthritic cartilage.Osteoarthritis and cartilage / OARS, Osteoarthritis Research Society 2004 Dec; 12; 12; 963-73
Research
Improve our understanding of cartilage biology, in particular the role of artificial matrix constructs to replace or augment diseased cartilage,
Apply this understanding to development of new treatments relevant to joint diseases, and
Introduce new techniques into clinical use, thus translating laboratory findings into practical treatment for life-impairing joint disorders.
In terms of clinical practice, I have been active in attempting to address perioperative morbidity and complications by the use of minimally invasive techniques for hip and knee replacement. In January 2003, I performed the first two-incision total hip arthroplasty in Washington, DC, after approximately one year of utilizing mini-incision approaches, which modified existing standard techniques. These techniques are now being applied in similar fashion to total knee arthroplasty. Clinical assessment studies are now ongoing for these techniques.
Since my arrival at the University of Washington, I have continued to collaborate with the Cartilage Biology and Orthopaedics Branch, and form new collaborations with groups at the University of Washington. My most active project of this type involves translational research in conjunction with Buddy Ratner, PhD of the University of Washington Engineered Biomaterials group.