Navin D. Fernando, M.D., FRCSC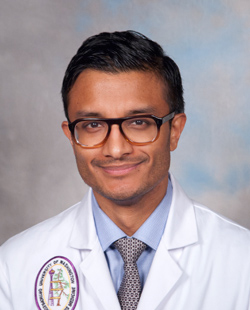 College
University of Windsor, Ontario, Canada
Medical School
University of Western Ontario, Ontario, Canada
Residency
McMaster University, Hamilton, Ontario, Canada
Fellowship
Rothman Institute at Thomas Jefferson University, Philadelphia, PA, Joint Replacement and Reconstructive Surgery
About
Dr. Navin Fernando is a dual-board certified, fellowship-trained orthopaedic surgeon specializing in the treatment of adult hip and knee arthritis. His subspecialty focus involves direct anterior hip replacement, minimally invasive knee replacement, as well as the management of joint replacement complications, such as revision, infection, and fracture. Dr. Fernando completed his fellowship training in total hip and knee replacement at the prestigious Rothman Institute at Thomas Jefferson University in Philadelphia, and completed his orthopedic residency training at McMaster University in Ontario, Canada, the birthplace of evidence-based medicine. Dr. Fernando is board certified in orthopaedic surgery by the American Academy of Orthopedic Surgeons, as well as the Royal College of Physicians and Surgeons of Canada.
Dr. Fernando sees patients at the Hip and Knee Center at the Northwest Primary and Specialty Care North Seattle.
Now offering telephone and telemedicine consultations
Patient Care Philosophy
My surgical philosophy is based on patient-centered care. The decision to have an operation is never an easy one, and every patient's circumstances are unique. Every operation involves a partnership of trust between the patient and doctor. My job as a surgeon is to discuss all available treatment options (both surgical and non- surgical), to give honest advice based on the best current evidence, and deliver expertise care using the best techniques available to ensure an excellent outcome.
Clinical Interests
Direct Anterior Hip Replacement
Minimally invasive Total Knee Replacement
Partial knee replacement
Complex total joint revision
-Direct Anterior Hip Replacement
Traditional hip replacement surgery involves making an incision on the side of the hip (lateral approach) or the back of the hip (posterior approach). Both techniques involve detachment of muscles and tendons from the hip in order to replace the joint. Detachment of these muscles may result in increased pain after surgery, and often prolongs the time to fully recover by months or even years. Failure of these muscles to heal after surgery may increase the risk of hip dislocation (the ball and socket separating), which is the leading cause of hip replacement failure. Hip precautions after surgery (no bending greater than 90 degrees, no crossing legs, no excessive rotation) are generally required for this reason.
Direct anterior hip replacement is a minimally invasive surgical technique. This approach involves a 3 to 4 inch incision on the front of the hip that allows the joint to be replaced by moving muscles aside along their natural tissue planes, without detaching any tendons. This approach often results in quicker recovery, less pain, and more normal function after hip replacement. Because the tendons aren't detached from the hip during direct anterior hip replacement, hip precautions are typically not necessary. This allows patients to return to normal daily activities shortly after surgery with a reduced risk of dislocation.
Video: Direct Anterior Approach to Total Hip Replacement
-Video is for educational purposes only. Dr. Fernando has no financial ties to Stryker.
Make an Appointment
11011 Meridian Avenue N.
Suite 201
Seattle, WA 98133
Surgeries and Diagnosis
Surgeries:
Total hip replacement
Hip preservation
Total knee replacement
Knee arthroscopy
Joint Preservation
Complex total hip and knee revision
Primary/Revision hip and knee artrhoplasty
Minimally invasive total hip replacement (Direct Anterior Total Hip Replacement)
Minimally-invasive partial knee replacement (unicompartmental)
Knee osteotomy
Hemiarthroplasty for hip fracture
Open reduction internal fixation (repair) of hip fractures
Femoroacetabular osteoplasty
Minimally invasive (quadriceps-sparing) total knee replacement
Post-Traumatic Reconstruction of the Hip and Knee
Hemiresurfacing arthroplasty of the hip (partial hip replacement)
Periacetabular osteotomy
Femoral osteotomy
Patellofemoral Replacement
Diagnosis:
Osteoarthritis (hip/knee)
Rheumatoid Arthritis (hip/knee)
Avascular necrosis (osteonecrosis of the femoral head)
Developmental dysplasia of the hip
Metastatic disease of the hip/pelvis/knee
Hip fracture
Meniscus tears in the knee
Painful total hip or total knee
Periprosthetic infections
Joint infections
Surgical Hip dislocation
Dislocated Hip/knee
Post traumatic arthritis
Geriatric Fracture
Publications
• THA Dislocation: Precautions are Not Necessary (Hozack W., Fernando N.)
- Symposium at American Academy of Orthopedics Surgeons Annual Meeting (AAOS) 2013, Chicago, IL.
• Total Knee Replacement with Pre-Navigation and Custom Cutting Blocks
- Hozack W, Bloomfield M, Fernando N. Operative Techniques in Orthopaedics. Volume 22, Issue 4, Pages 171-
175, December 2012.
• Infection: Principles of Reimplantation in THE HIP: Preservation, Replacement and Revision (Fernando N.,
Parvizi J.) Data Trace Publishing 2013. 110 West Road, Suite 227, Towson, MD 21204
• Mini-open Femoroacetabular Osteoplasty in Hip-Joint Preserving Surgery (Fernando N, Parvizi J). Editora
Atheneu 2013. Rua Jesuino Pascoal, 30 Santa Cecilia 01223-050 - Sao Paulo.
• Revision for Instability in THE HIP: Preservation, Replacement, and Revision (Fernando N., Sharkey P.) Data
Trace Publishing 2013. 110 West Road, Suite 227, Towson, MD 21204
• (SEPTA I) Study to Evaluation Physiotherapy in Total Hip Arthroplasty: A Randomized Controlled Trial
(Fernando N, Austin M, Parvizi J, Deirmengian D, Purtill J, Rothman R.)
- trial in progress
• Association of Trauma Biomarkers with Hospital Length of Stay Following Knee Arthroplasty (Fernando N.,
Kumbhare D., McKnight L., Parkinson W., Adili A)
- Poster at the Canadian Orthopaedic Association (COA) National Annual Meeting, Edmonton, Alberta (June, 2010)
• Evaluation and Management of Tibiofemoral instability after Total Knee Arthroplasty (Fernando N., Petruccelli
D., DeBeer J., Winemaker M.)
- Podium at McMaster University Resident Research Day 2012
• Classification and Management of Periprosthetic Fractures after Total Knee Arthroplasty (Hoppe D., Fernando
N., Petruccelli D., DeBeer J., Winemaker M.)
- in progress
• Osteosynthesis with locking compression plates versus Shoulder Arthroplasty for the treatment of 3- and
4-part fractures of the proximal humerus: Proposal for a pilot randomized control trial (Fernando N., Bhandari
M., Moro J., Rajaratnam K.)
- Podium at the McMaster University Junior Residents Research Day
- Awarded 2nd Place Best Junior Resident Presentation 2009
• Anterior Fusion Procedures using Interbody Cages for Lumbar Degenerative Disc Disease (Fernando N.,
Chakravarthi S.)
- Podium at the World Congress of Neurological Sciences Annual International Meeting, Marrakech, Morocco (June