Navin D. Fernando, M.D., FRCSC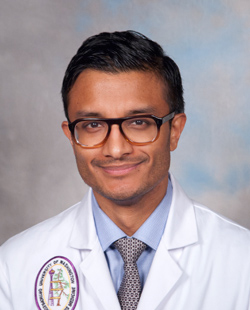 College
University of Windsor, Ontario, Canada
Medical School
University of Western Ontario, Ontario, Canada
Residency
McMaster University, Hamilton, Ontario, Canada
Fellowship
Rothman Institute at Thomas Jefferson University, Philadelphia, PA, Joint Replacement and Reconstructive Surgery
Board Certification
Board Certified
About
Dr. Navin Fernando is a dual-board certified, fellowship-trained orthopaedic surgeon specializing in the treatment of adult hip and knee arthritis. His subspecialty focus involves direct anterior hip replacement, minimally invasive knee replacement, as well as the management of joint replacement complications, such as revision, infection, and fracture. Dr. Fernando completed his fellowship training in total hip and knee replacement at the prestigious Rothman Institute at Thomas Jefferson University in Philadelphia, and completed his orthopedic residency training at McMaster University in Ontario, Canada, the birthplace of evidence-based medicine. Dr. Fernando is board certified in orthopaedic surgery by the American Academy of Orthopedic Surgeons, as well as the Royal College of Physicians and Surgeons of Canada.
Dr. Fernando sees patients at the Hip and Knee Center at the Northwest Primary and Specialty Care North Seattle.
Patient Care Philosophy
My surgical philosophy is based on patient-centered care. The decision to have an operation is never an easy one, and every patient's circumstances are unique. Every operation involves a partnership of trust between the patient and doctor. My job as a surgeon is to discuss all available treatment options (both surgical and non- surgical), to give honest advice based on the best current evidence, and deliver expertise care using the best techniques available to ensure an excellent outcome.
Clinical Interests
Direct Anterior Hip Replacement
Minimally Invasive Total Knee Replacement
Partial Knee Replacement (Unicompartmental Knee replacement/Patellofemoral Knee Replacement)
Complex total joint revision
Direct Anterior Hip Replacement
Traditional hip replacement surgery involves making an incision on the side of the hip (lateral approach) or the back of the hip (posterior approach). Both techniques involve detachment of muscles and tendons from the hip in order to replace the joint. Detachment of these muscles may result in increased pain after surgery, and often prolongs the time to fully recover by months or even years. Failure of these muscles to heal after surgery may increase the risk of hip dislocation (the ball and socket separating), which is the leading cause of hip replacement failure. Hip precautions after surgery (no bending greater than 90 degrees, no crossing legs, no excessive rotation) are generally required for this reason.
Direct anterior hip replacement is a minimally invasive surgical technique. This approach involves a 3 to 4 inch incision on the front of the hip that allows the joint to be replaced by moving muscles aside along their natural tissue planes, without detaching any tendons. This approach often results in quicker recovery, less pain, and more normal function after hip replacement. Because the tendons aren't detached from the hip during direct anterior hip replacement, hip precautions are typically not necessary. This allows patients to return to normal daily activities shortly after surgery with a reduced risk of dislocation.
For more information, please visit our patient article: Direct Anterior Approach (Minimally Invasive) Total Hip Replacement.
Make an Appointment
11011 Meridian Avenue N.
Suite 201
Seattle, WA 98133
Surgeries and Diagnosis
Surgeries:
Total hip replacement
Hip preservation
Total knee replacement
Knee arthroscopy
Joint Preservation
Complex total hip and knee revision
Primary/Revision hip and knee artrhoplasty
Minimally invasive total hip replacement (Direct Anterior Total Hip Replacement)
Minimally-invasive partial knee replacement (unicompartmental)
Knee osteotomy
Hemiarthroplasty for hip fracture
Open reduction internal fixation (repair) of hip fractures
Femoroacetabular osteoplasty
Minimally invasive (quadriceps-sparing) total knee replacement
Post-Traumatic Reconstruction of the Hip and Knee
Hemiresurfacing arthroplasty of the hip (partial hip replacement)
Periacetabular osteotomy
Femoral osteotomy
Patellofemoral Replacement
Diagnosis:
Osteoarthritis (hip/knee)
Rheumatoid Arthritis (hip/knee)
Avascular necrosis (osteonecrosis of the femoral head)
Developmental dysplasia of the hip
Metastatic disease of the hip/pelvis/knee
Hip fracture
Meniscus tears in the knee
Painful total hip or total knee
Periprosthetic infections
Joint infections
Surgical Hip dislocation
Dislocated Hip/knee
Post traumatic arthritis
Geriatric Fracture
Publications
Hozack, W., Bloomfield, M., Fernando, ND. Total knee replacement with pre-navigation and custom cutting blocks. Operative Techniques in Orthopaedics. 22(4):171-175, 2012.
Kohn M.D., Sassoon A.A., Fernando ND. In Brief: Kellgren-Lawrence Classification of Osteoarthritis. Clin Orthop Relat Res. 2016 Aug;474(8):1886-93, 2016.
Hug K, Fernando ND. Intra-abdominal migration of a k-wire during revision total hip arthroplasty. Arthroplasty Today. 2016 Oct 7; 3(1).
Austin MS, Urbani BT, Fleischman AN, Fernando ND, Purtill JJ, Hozack WJ, Parvizi J, Rothman RH. Formal Physical Therapy After Total Hip Arthroplasty Is Not Required: A Randomized Controlled Trial. J Bone Joint Surg Am. 2017 Apr 19;99(8):648-655. doi: 10.2106/JBJS.16.00674.
Ibrahim D., Swenson A., Sassoon A.A, Fernando ND. In Brief: Tscherne Classification of Soft Tissue Injury. Clin Orthop Relat Res. 2017 Feb;475(2):560-564. doi: 10.1007/s11999-016-4980-3
Ibrahim D.A., Fernando ND. Classifications In Brief: The Paprosky Classification of Femoral Bone Loss. Clin Orthop Relat Res. 2017 Mar;475(3):917-921. doi: 10.1007/s11999-016-5012-z
Magnusson E., Spina N., Fernando ND. In Brief: Thoracolumbar Spine Injury Classification and Severity Score (TLIC). Clin Orthop Relat Res. 2018 Jan;476(1):160-166
Kovalenko, B., Bremjit P., Fernando ND. In Brief: Tonnis Classification of Hip Osteoarthritis. Clin Orthop Relat Res. 2018. Aug; 476 (8); 1680-1684. Doi: 10.1097/01.bio.0000534679.75870.5f
Lee, Y, Fernando ND, Koo, K, MD, PhD, Kim, K,Vahedi, H, Chen, A. What Markers Guide Reimplantation in Two-stage Exchange Arthroplasty for Periprosthetic Joint Infection: A Systematic Review and Meta-analysis. 2017 Musculoskeletal Infection Society Proceedings. Clin Orthop Relat Res. 2018 Oct; 72(10):1972-1983. doi: 10.1097/01.blo.0000534680.87622.43
Bialecki J, Bucsi L, Fernando ND Foguet P, Guo S, Haddad F, Hansen E, J anvari K, Jones S, Keogh P, McHale S, Molloy R, Morgan-Jones R, Ohlmeier M, Saldaña A, Toms A, Walker R, Zahar A. Hip and Knee Section, Treatment, One Stage Exchange: Proceedings of International Consensus on Orthopedic Infections. J Arthroplasty. 2018 Oct 19. pii: S0883 5403(18)30807-6. doi: 10.1016/j.arth.2018.09.026
Zainul-Abidin S, Amanatullah DF, Anderson MB, Austin M, Barretto JM, Battenberg A, Bedard NA, Bell K, Blevins K, Callaghan JJ, Cao L, Certain L, Chang Y, Chen JP, Cizmic Z, Coward J, DeMik DE, Diaz-Borjon E, Enayatollahi MA, Feng JE, Fernando ND, Gililland JM, Goodman S, Goodman S, Greenky M, Hwang K, Iorio R, Karas V, Khan R, Kheir M, Klement MR, Kunustor S, Limas R, Morales Maldonado RA, Manrique J, Matar WY, Mokete L, Nung N, Pelt CE, Pietrzak JRT, Premkumar A, Rondon A, Sanchez M, Novaes de Santana C, Sheth N, Singh J, Springer BD, Tay KS, Varin D, Wellman S, Wu L, Xu C, Yates AJ. General Assembly, Prevention, Host Related General: Proceedings of International Consensus on Orthopedic Infections. J Arthroplasty. 2018 Oct 22. pii: S0883-5403(18)30833-7. doi: 10.1016/j.arth.2018.09.050
Zhou J, Fernando N. In Brief: Hartofilakidis Classification of Developmental Dysplasia of the Hip. Clin Orthop Relat Res. 2019 May 16. doi: 10.1097/CORR.0000000000000802.
Finch DJ, Pellegrini VD Jr ,Franklin PD, Magder LS, Pelt CE, Martin BI; PEPPER Investigators. The Effects of Bundled Payment Programs for Hip and Knee Arthroplasty on Patient-Reported Outcomes. J Arthroplasty. 2019 Nov 26. pii: S0883-5403(19)31100-3. doi:10.1016/j.arth.2019.11.028.
Finch DJ, Martin BI, Franklin PD, Magder LS, Pellegrini VD Jr; PEPPER Investigators. Patient-Reported Outcomes Following Total Hip Arthroplasty: A Multicenter Comparison Based on Surgical Approaches. J Arthroplasty. 2019 Oct 17. pii: S0883-5403(19)30975-1. doi: 10.1016/j.arth.2019.10.017.
Kohn, M. Fernando, N. Prosthetic femoral head erosion through an acetabular component treated with revision and implant preservation. Arthroplasty Today. 2020 January 13. doi: 10.1016/j.artd.2019.12.003
Wilkerson, J,. Fernando N. Dorr Classification for Femoral Bone Quality. Clin Orthop Relat Res. 2020 May 6; doi:10.1097/CORR.0000000000001295
Kovalenko B., Stein, I., Fernando N. Total Hip Arthroplasty for Ankylosis requiring Rotational Rectus Flap and Skin Graft for Wound Closure. Arthroplasty Today. 2020 Jan 14; 6(1); 9-13. doi:10.1016/j.artd.2019.12.003
Fernando, N., Werner, S., Elhaddad, M., Davies, J., Firoozabadi, R. Do Antibiotic Beads Need to be Removed? Arch Bone Jt Surg. 2020 Jul;8(4):502-505. doi: 10.22038/abjs.2020.44143.2208.
Stancil R, Romm J, Lack W, Bohnenkamp F, Sems S, Cross W, Cass J, Keeney J, Nam D, Nunley R, Fernando N, Sassoon A. Distal Femoral Replacement for Fractures Allows for Early Mobilization with Low Complication Rates: A Multicenter Review. J Knee Surg. 2021 Jun 29. doi: 10.1055/s-0041-1731353. Epub ahead of print. PMID: 34187069.
Pellegrini VD Jr, Eikelboom JW, Evarts CM, Franklin PD, Garvin KL, Goldhaber SZ, Iorio R, Lambourne CA, Magaziner J, Magder L; Steering Committee of the PEPPER Trial and the PEPPER Trial Investigators, funded by PCORI. Randomised comparative effectiveness trial of Pulmonary Embolism Prevention after hiP and kneE Replacement (PEPPER): the PEPPER trial protocol. BMJ Open. 2022 Mar 8;12(3):e060000. doi: 10.1136/bmjopen-2021-060000. PMID: 35260464.
Carlock K., Mills, Z., Geiger, Kyle., Manner P., Fernando, N. Routine Indwelling Urinary Catheterization Is Not Necessary During Total Hip Arthroplasty Performed Under Spinal Anesthesia. Arthroplast Today. 2022 May 28;16:68-72. doi: 10.1016/j.artd.2022.04.015. PMID: 35662993; PMCID: PMC9157006.
Fernando N. Yacovelli, S, Parvizi J. Periprosthetic Infection in the setting of Periprosthetic Total Hip Fractures: Evaluation and Management. J Am Acad Orthop Surg. 2022 Oct 15;30(20):957-964. doi: 10.5435/JAAOS-D-21-00083
Ko H, Pelt CE, Martin BI; PEPPER Investigators, Pellegrini VD Jr. Patient-reported outcomes following cemented versus cementless primary total knee arthroplasty: a comparative analysis based on propensity score matching. BMC Musculoskelet Disord. 2022 Oct 27;23(1):934. doi: 10.1186/s12891-022-05899-1. PMID: 36303136; PMCID: PMC9608915.