Michael Githens, M.S, M.D.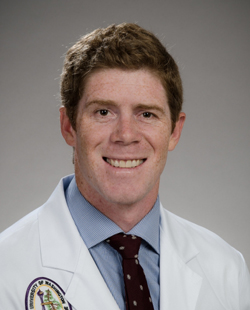 College
Pepperdine University, Malibu, CA
Georgetown University, Washington, DC, - MS in Biophysics
Medical School
Georgetown University School of Medicine, Washington, DC
Residency
Stanford University, Palo Alto, CA
Fellowship
Harborview Medical Center, Seattle, WA (Orthopaedic Traumatology)
About
Michael Githens is a practicing orthopaedic traumatologist at Harbor View Medical Center and an assistant professor in the UW Department of Orthopaedic Surgery. He is an expert in treatment of both upper and lower extremity traumatic injuries, with a particular interest in peri-articular fracture management and treatment of nonunions.
He is actively engaged in multiple clinically based research endeavors with a particular interest in fracture nonunion. Additionally, he is working to better understand the psychosocial impact of trauma on a patient's overall recovery and how various treatments may help optimize outcomes.
Dr. Githens received his bachelor's degree from Pepperdine University and then earned a M.S. in biophysics from Georgetown University. He stayed in Washington, DC to complete his M.D at Georgetown University School of Medicine. Following his time there, Dr. Githens completed his surgical internship and residency in Orthopaedic Surgery at Stanford University. He then completed the Orthopaedic Traumatology Advanced Clinical Experience fellowship at Harbor View Medical Center in Seattle.
He is an active member of the Orthopaedic Trauma Association and American Academy of Orthopaedic Surgeons.
Patient Care Philosophy
To me, orthopaedic trauma is about meeting the patient where they are at- no matter the walk of life, no matter the circumstances surrounding their injury- and work together with the patient to achieve the very best outcome possible. Understanding where a person is coming from- what their job is, what their home is like, what their hobbies and enjoyments are, and what their daily life is like- is critical to the care I provide. These things matter most because, at the end of the day, the ultimate goal we're working towards as a team is rebuilding a patient's life after trauma.
Clinical Interests
Upper and lower extremity fractures
Polytrauma
Nonunion and malunion
Resident and fellow education in orthopaedic trauma
Make an Appointment
325 9th Avenue
1st Floor
Seattle, WA 98104
Research
Research Interests
Stem cell therapy for incomplete spinal cord injury
Identifying the optimal treatment for geriatric distal humerus fractures
Idenitifiyng disparities in treatment of femoral neck fractures
Clinical research in tibia fracture healing and nonunion
Clinical research in depression, post-traumatic stress disorder, and other psychosocial issues after trauma
Biomechanics in orthopaedics