Assistant Professor

Stadium Clinic Surgical Director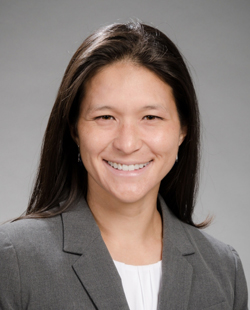 Medical School
University of California, San Francisco
Residency
University of California, San Francisco
Fellowship
Cleveland Clinic (Sports Medicine)
About
Dr. Hagen is a sports medicine surgeon at the University of Washington, a specialist in hip arthroscopy and hip preservation. She performs minimally-invasive surgery for all types of athletic injuries, including those of the shoulder, elbow, knee, and ankle, with particular interests in hip arthroscopy and injuries of young athletes.
She is an Assistant Professor within the Department of Orthopaedics and Sports Medicine at the University of Washington, the Surgical Director of the Sports Medicine Center at Husky Stadium, and she serves as a team physician for the University of Washington Husky Athletics. She earned her bachelor's degree from Yale University magna cum laude, followed by medical school and orthopaedic surgery residency training at the University of California San Francisco. She then completed a fellowship in sports medicine at the Cleveland Clinic. Her extensive team experience includes working with the NBA Cleveland Cavaliers, the MLB Cleveland Indians, NCAA DIII football, basketball, wrestling, lacrosse, and track and field at Baldwin-Wallace University, the MiLB Mahoning Valley Scrappers, and the San Francisco Golden Gate Rugby Club.
Dr. Hagen enjoys working with athletes of all ages, levels, and sports to get them back on the field. She is an active member of the American Academy of Orthopaedic Surgeons, American Orthopaedic Society for Sports Medicine, Arthroscopy Association of North America, and the International Society for Hip Arthroscopy.
Patient Care Philosophy
I love being a part of the University of Washington Sports Medicine Center at Husky Stadium. Our goal is to return the injured athlete – whether (s)he be a weekend warrior or professional competitor -- to the field. This type of care requires coordination by the physician, physical therapist, athletic trainer, physician assistant, and most importantly, the patient. The UW Sports Medicine Center provides a "one-stop shop" with cutting-edge diagnostic, surgical and non-surgical services. We enjoy working together to restore patients to their active lifestyles.
Clinical Interests
Athletic injuries of the shoulder, elbow, hip, knee, and ankle
Hip preservation
Pediatric sports medicine
Female athlete
Make an Appointment
3800 Montlake Blvd NE
Box 354060
Seattle, WA 98195
Surgeries and Diagnosis
UW Hip Arthroscopy
UW Hip Preservation
Research
Research Interests
Hip arthroscopy
Patient-reported outcomes in sports medicine
Pediatric sports medicine
Prior research in shoulder replacement and instability.