Kirsten M. Thompson, PA-C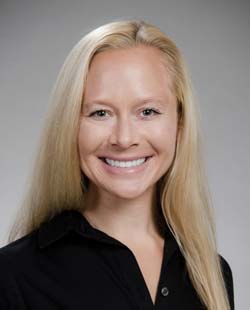 College
Brown University, Providence, RI (ScB, Human Biology)
Massachusetts College of Pharmacy and Health Sciences, Boston, MA (MPAS, Physician Assistant Studies)
Board Certification
Kirsten Harvey is board certified by the NCCPA
About
Kirsten Thompson, PA-C is a physician assistant and teaching associate of Orthopaedics and Sports Medicine, with a practice focus in shoulder and elbow surgery.
She provides care for upper extremity disorders, trauma, and sports-related injuries; and works alongside Dr. Hsu assisting in arthroscopic surgeries, as well as open, revision, complex reconstructive, and arthroplasty cases for a number of shoulder and elbow conditions. She is dedicated to providing patient-centered care and ensuring that patients have a thorough understanding of their injury or condition and how to properly manage it.
Kirsten received her Bachelors in Science in Human Biology from Brown University and her Masters in Physician Assistant Studies from MCPHS University. Prior to her role at University of Washington, she worked at University Orthopedics Inc. in Providence, Rhode Island affiliated with Brown University in the Department of Shoulder and Elbow Surgery.
She is board certified by the NCCPA and a fellow of both the American Academy of Physician Assistants and Physician Assistants in Orthopedic Surgery.
Patient Care Philosophy
Treating on a case by case basis, I'm dedicated to establishing personalized care and discussing all management options including nonoperative treatment alongside appropriate surgical considerations. I encourage direct communication with patients to optimize timely medical care, and can always be reached at the team email drjasonhsu@uw.edu.
Clinical Interests
Nonoperative and operative management of shoulder, elbow, and upper extremity disorders and injuries
Personal Interests
Running, mountaineering, sailing, skiing, and taking advantage of the pacific northwest scenery. I played softball competitively for 21 years, and spent a few years running competitively before it became a hobby.
Make an Appointment
4245 Roosevelt Way NE
Second Floor
Seattle, WA 98105
11011 Meridian Ave. N.
Suite 201
Seattle, WA 98133
Research
Research Interests
Postoperative outcomes as they relate to patient expectations and quality of life measures
Postoperative rehabilitation and its effect on outcomes measures