Clinical Assistant Professor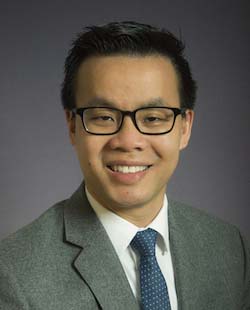 College
Boston College, Chestnut Hill, MA
Medical School
Case Western Reserve University, Cleveland, OH
Residency
University of Maryland Medical Center, Baltimore, MD
Fellowship
Mercy Medical Center, Baltimore, MD - Foot and Ankle
University of Maryland Medical Center, Baltimore, MD - Sports Medicine
Board Certification
Board Certified - ABOS
About
Dr. Chin is an orthopaedic surgeon who specializes in Foot & Ankle surgery and Sports Medicine at the University of Washington Medical Center and Northwest Hospital. His area of focus is on minimally invasive and traditional surgeries of the ankle, foot, and knee, with a particular interest in the treatment of athletic ankle injuries.
He is a Clinical Assistant Professor in the Department of Orthopaedics and Sports Medicine at the University of Washington. Dr. Chin graduated from Case Western Reserve University School of Medicine in Cleveland, Ohio, which was followed by a residency in Orthopaedic Surgery at the University of Maryland/R. Adams Cowley Shock Trauma Center in Baltimore, Maryland. After residency, he completed two subspecialty fellowships in Foot & Ankle surgery at Mercy Medical Center and Sports Medicine at the University of Maryland.
Dr. Chin is an active member of the American Academy of Orthopaedic Surgeons and the American Orthopaedic Foot and Ankle Society.
Patient Care Philosophy
When patients come to see me, I believe in the utmost importance of taking the time to sit down with them and listen closely to their concerns. I strive to tailor treatment plans to the individual, whether that entails a surgical procedure or a more conservative approach. It is my strong belief there is no "one size fits all" approach when it comes to providing the best care for a patient.
Clinical Interests
Dr. Chin's clinical interests include the treatment of athletic injuries, trauma, and chronic conditions of the foot, ankle, and knee.
Personal Interests
In his free time, Dr. Chin enjoys mountain biking, skiing, and spending time with his wife, daughter, and chocolate lab Coco.
Make an Appointment
3800 Montlake Blvd NE
Box 354060
Seattle, WA 98195
1455 NW Leary Way
Suite 350
Seattle, WA 98107
10330 Meridian Ave. N.
Suite 300
Seattle, WA 98133
Research
His research focuses on osteochondral lesions of the talus and ligament reconstruction of the ankle.