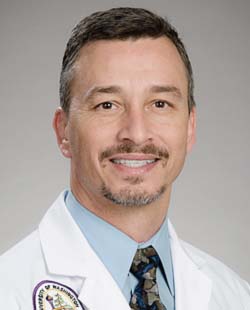 Medical School
Univ. of Texas Southwestern
Medical education, 1997
Board Certification
Physician Assistant, 1997, National Commission on Certification of Physician Assistant
About
Jason Maris, P.A.-C., is a board certified physician assistant and the Sports Medicine Center at Husky Stadium and UWMC-Roosevelt and a UW teaching associate of Orthopedics and Sports Medicine.

Maris treats and assists in the surgical management of problems and injuries of the knee, shoulder and elbow, and degenerative conditions of the hip and knee. He believes careful listening and a thorough physical exam are key to an accurate diagnosis and the successful health outcome of patients, and educating the empowers them to play an active role in their recovery.

Maris received his medical education the University of Texas Southwestern Medical Center. He is board-certified by the National Commission for the Certification of Physician Assistants, American Academy of Physician Assistants and Washington State Academy of Physician Assistants. His clinical interests include conservative and surgical management of the hip, knee and shoulder.
Make an Appointment
3800 Montlake Blvd NE
Box 354060
Seattle, WA 98195
4245 Roosevelt Way NE
Second Floor
Seattle, WA 98105