Professor

Program Director, Traumatology Fellowship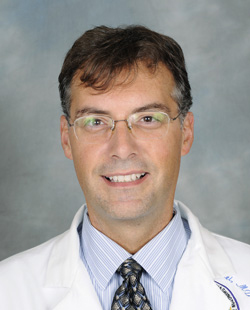 College
University of Western Ontario, London, Canada
Internship
St. Joseph's Health Centre, University of Toronto
Residency
Ottawa Hospital, University of Ottawa
Fellowship
Orthopedic Traumatology, HMC
Board Certification
Board Certified
About
David P. Barei, M.D., UW professor of orthopedics and sports medicine, specializes in treating complex injuries caused by trauma.
Patient Care Philosophy
Dr. Barei believes in a team approach to the complex, multiple-injury patient. He treats patients as if they were family.
Clinical Interests
Dr. Barei's clinical interests include all aspects of orthopedic, patient-oriented, trauma research, including decision models, systematic reviews and randomized clinical trials, care for patients with complex traumatic injuries, management of high-energy periarticular injuries to upper and lower limbs, fracture nonunions, leg length discrepancy and malunited fractures.
Personal Interests
Dr. Barei enjoys family, reading, hockey, Italian food, The Big Green Egg, beer tasting and any family activities involving a puck and a stick.
Make an Appointment
325 9th Avenue
1st Floor
Seattle, WA 98104
Surgeries and Diagnosis
Common Surgeries Performed
I treat acute fractures as well as subacute fractures and fractures that have problems healing (nonunion) and also care for the multiply injured patient.
• IM Nails (Rod)
• Plates and Screws
• External Fixation
Common Injuries Treated
Shoulder Fractures
• Clavicle (Collarbone)
• Proximal Humerus
• Scapula
Arm Fractures
• Humerus Shaft Fracture
Elbow Fractures And Dislocations
• Radial Head Fracture
• Coronoid Fracture
• Terrible Triad
• Olecranon Fracture
• Monteggia Fracture
• Distal Humerus Fracture
• Complex Fracture Dislocations
Forearm Fractures
• Radius And Ulna Shaft Fractures
• Galeazzi Fractures
Hip Fractures
• Femoral Neck Fractures
• Intertrochanteric/Pertrochanteric/Subtrochanteric Femur Fractures
Thigh Fractures
• Femur Fractures
• Supracondylar Femur Fractures
• Periprosthetic Femur Fractures (fractures around hip and knee replacements)
Knee Fractures
• Tibial Plateau Fractures
Leg Fractures
• Tibia Shaft Fractures
Ankle Fractures
• Lateral Malleolus Fractures
• Bimalleolar Ankle Fractures
• Trimalleolar Ankle Fractures
• Tibial Pilon Fractures
Foot Fractures
• Lisfranc Injuries
• Talus Fractures
• Calcaneus Fractures (Heel Bone)
• Metatarsal Fractures
• Tarsal Fractures
Research
Clinical research on all aspects of fracture care with a focus on patient outcomes.