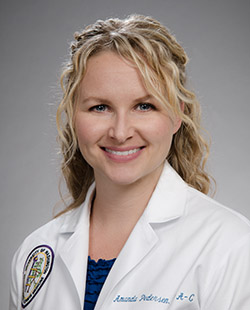 College
University of Washington, BS in Medical Technology, 2007
Medical School
Baylor College of Medicine, Medical education, 2012
Board Certification
Physician Assistant, 2012, National Commission on Certification of Physician Assistant
About
Amanda works as a Teaching Associate in the Orthopaedics & Sports Medicine Department. As a Physician Assistant, she evaluates patients with hand, wrist, and elbow dysfunction and injuries. She participates in clinic and assists in procedures and surgeries.
Patient Care Philosophy
Amanda believes in providing high quality, compassionate care to the people of the Pacific Northwest. Her goal is to partner with patients to develop a treatment plan that allows them to return to an active lifestyle and activities that they enjoy.
Clinical Interests
Orthopaedics, Sports Medicine, therapeutic modalities, preventative medicine
Personal Interests
Amanda enjoys leading an active lifestyle, cooking, and spending time with her family and friends.
Make an Appointment
3100 Northup Way
Box 356005
Bellevue, WA 98008
4245 Roosevelt Way NE
Second Floor
Seattle, WA 98105