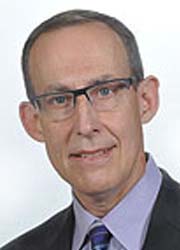 UW Orthopaedics and Sports Medicine was honored to have Dr. Graham J. King as our 2016 LeCocq guest lecturer last Thursday and Friday, Jan. 21 and 22.
Dr. King is the Director of the Roth|McFarlane Hand and Upper Limb Centre, Chief of Surgery at St. Joseph's Health Centre, and Professor of Orthopaedic Surgery and Biomedical Engineering at Western University in London, Ontario, Canada.
Dr. King shared his orthopaedic expertise with lectures delivered on Thursday and Friday morning. Dr. King also provided valuable insight and guidance, joining UW Orthopaedics and Sports Medicine for panel review of resident cases.
Dr. King's Thursday lecture, "Radial Head Fractures: Current Concepts" can be seen below or on our Youtube channel.