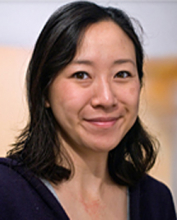 Dr. Antoinette Lindberg recently attended a ski trip to support two of her patients who were skiing for the first time. The ski trip is an annual event for patients, hosted by Outdoors for All and Seattle Children's.
The trip is a welcome break for many children who sometimes see the hospital as a second home. It's also an empowering opportunity for these patients to expand the boundaries of what they think they're capable of.
One of Dr. Lindberg's patients skiing for the first time was 14 year old Markus, diagnosed with osteosarcoma in 2017. Markus's treatment required rotationplasty, an amputation of the leg above the knee and reattachment of the foot backwards.
Markus was a natural on skis and eager to get on the chair lift after practicing on the small hill.
Dr. Lindberg said she thought she was more excited than the kids.
"It reminds me why I do what I do," said Dr. Lindberg. "For all the hard times I share with my patients and their families, there is something at the end of their treatment to look forward to."
For more on Markus's story and the ski trip, please see Seattle Children's On The Pulse Blog (https://pulse.seattlechildrens.org/ski-day-gives-kids-the-opportunity-to-hit-the-slopes-for-the-first-time/)