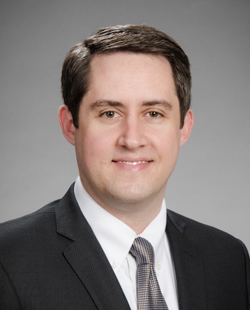 Medical School
University of Kansas School of Medicine
Residency
Virginia Commonwealth University Medical Center
About
Dr. Thompson is an assistant professor in the Department of Orthopaedics and Sports Medicine. He is an orthopaedic oncologist specializing in the surgical management of tumors of the extremities and pelvis, with a primary focus on sarcoma and complex limb reconstruction. He practices at the Seattle Cancer Care Alliance, Seattle Children's Hospital, and University of Washington Medical Center.
Dr. Thompson is a published author and reviews for both national and international scientific journals. His clinical research focuses on the management of benign, malignant, and metastatic tumors of the musculoskeletal system. He is currently collaborating on projects that will assess the utility of fluorescence-guided surgery in orthopaedic oncology and to develop new technologies in this area. He is also interested in optimizing provider-to-provider communication and in assessing the effects of cognitive bias on simulated patient decision-making in orthopaedic oncology. He is interested in studying the comprehensive treatment of avascular necrosis of bone in adults and children and in future applications of computer-assisted surgery.
Dr. Thompson studied biochemistry at the University of Kansas prior to attending the University of Kansas School of Medicine where he was honored with the Best Student Recognition of Achievement in Foundations of Medicine and was inducted into the Alpha Omega Alpha Honor Society. He completed residency in orthopaedic surgery at Virginia Commonwealth University Medical Center where he was nominated to the Resident Leadership Forum of the American Orthopaedic Association and was the recipient of the Award for Excellence for Outstanding Achievement and Contribution to the Orthopaedic Residency Program. He then completed specialized fellowship training in orthopaedic oncology at the University of Washington.
Dr. Thompson is recognized as an Emerging Leader by the American Orthopaedic Association and is a current member of the Connective Tissue Oncology Society, Musculoskeletal Tumor Society (candidate), American Academy of Orthopaedic Surgeons (candidate), Fred Hutchinson/University of Washington Cancer Consortium, Seattle Translational Tumor Research, and the American Medical Association.
Patient Care Philosophy
"I believe that patient-centered treatment is best achieved through shared decision-making with my patient, his or her family, and a team of collaborative providers. I am dedicated to ensuring that an informed patient is able to guide his or her care in accordance with his or her unique experience and wishes. My most influential mentors sought first to always understand the disease in the context of the person."
Clinical Interests
Sarcoma
Benign, malignant, and metastatic tumors of the musculoskeletal system
Pathologic fractures
Complex reconstruction of the extremities and pelvis
Avascular necrosis of bone
Revision arthroplasty
Personal Interests
"I enjoy spending time with my beautiful and compassionate wife, adorable young daughters, and a pair of misbehaving dachshunds. Together, we enjoy traveling, camping, hiking, skiing, eating good food, and exploring new scenery. My other interests include the challenge and serenity of piloting small aircraft, woodworking, clearing my head on the driving range… despite minimal tangible improvement in my game, and generally learning new things."
Make an Appointment
4800 Sandpoint Way NE

Seattle, WA 98105
Seattle Division
1660 South Columbian Way
Seattle, WA 98108
Phone
206.762.1010 or 800.329.8387
4245 Roosevelt Way NE
Second Floor
Seattle, WA 98105
Research
Research Interests
Musculoskeletal tumors
Stem-cell seeding of nerve grafts
Perioperative care
Bone, joint, and tendon reconstruction
Fluorescence-guided surgery
Pre-treatment assessment of soft tissue sarcoma response to chemotherapy,
Skeletal metastasis
Provider communication
The effects of cognitive bias on patient decision making
Avascular necrosis
Pediatric arthroplasty
Lymph node metastasis in soft tissue sarcoma